Memorandum to the Minister
2nd December 1938
Page 40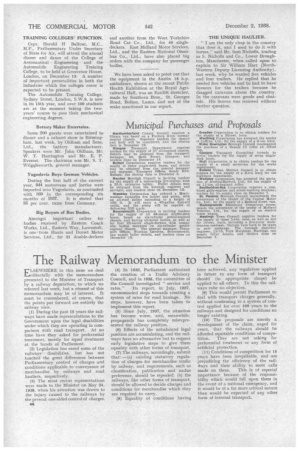 Page 40, 2nd December 1938 —
Memorandum to the Minister
Close
(4) In 1933, Parliament authorized the creation of a Traffic Advisory Council, and in 1935, the committee of the Council investigated " service and rates." Its report, in July, 1937, recommended steps towards creating a system of rates for road haulage. No steps, however, have been taken to implement this report.
(5) Since July, 1937, the situation has become worse, and, meanwhile, propaganda has completely misrepresented the railway position..
(6) Effects of the unbalanced legal position are accumulating, and the railways have no alternative but to request early legislative steps to give them equality with other forms of transport.
(7) The railways, accordingly, submit that :—(a) existing statutory regulation of charges for merchandise traffic by railway, and requirements, such as classification, publication and undue preference, should be repealed; (b) the railways, like other forms of transport, should be allowed to decide charges and conditions for merchandise which they are required to carry.
(8) Equality of conditions having been achieved, any regulation applied in future to any form of transport should (in appropriate shape) be applied to all others. To this the railways raise no objection.
(9) This would permit Parliament to deal with transport charges generally, without confirming to a system of control applied for over 100 years to the railways and designed for conditions no longer existing.
(10) The proposals are merely a development of the claim, urged for years, that the railways should be afforded equitable conditions of competition. They are not asking for preferential treatment or any form of artificial protection.
(11) Conditions of competition for 15 years have been inequitable, and are prejudicing the efficiency of the raillays and their ability to meet calls made on them. This is of especial importance because of the responsibility which would fall upon them in the event of a national emergency, and it would be of a far more critical nature than would be expected of any other form of internal transport.