NEWS of the WEEK
2nd December 1938
Page 36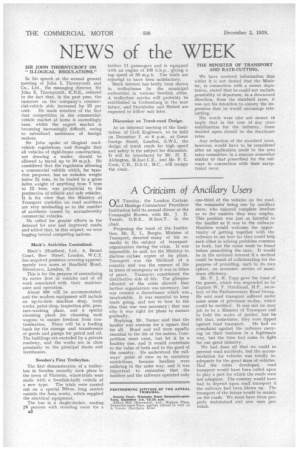 Page 36, 2nd December 1938 —
NEWS of the WEEK
Close
SIR JOHN THORNYCROFT ON "ILLOGICAL REGULATIONS."
In his speech at the annual general meeting of John I. Thomycroft and Co., Ltd., the managing director, Sir John E. Tlaornycroft, K.B.E., referred to the fact that, in the past year, the turnover on the company's commercial-vehicle side increased by 23 per cent. He made mention of the fact that competition in the commercialvehicle market at home is exceedingly keen, whilst the export market is becoming increasingly difficult, owing to subsidized assistance of foreign makers.
Sir John spoke of illogical roadvehicle regulations, and thought that all vehicles of rigid-frame construction, not drawing a trailer, should be allowed to travel up to 30 m.p.h. He considered that the regulation allowing a commercial vehicle which, for taxation purposes, has an unladen weight below 2i tons, to be loaded to a gross laden weight of anything from 7 tons to 12 tons, was prejudicial to the production of reliable and safe vehicles. It is his view that the Ministry of Transport statistics on road accidents are very misleading as to the number of accidents caused by unroadworthy commercial vehicles.
He called for greater efforts in the demand for new and improved roads, and added that, in this respect, we were lagging behind competing nations.
Mack's Activities Centralized.
Mack's (Hauliers), Ltd., 5, Broad Court, Bow Street, London, W.C.2, has acquired premises covering approximately two acres at Bradfield Road, Silvertown, London, E.
This is for the purpose of centralizing its entire fleet of vehicles and of all work associated with their maintenance and operation.
About 200 will be accommodated, and the modern equipment will include an up-to-date machine shop, body works, paint shop, inspection pits, pressure-washing plant, and a special steaming plant for cleansing tank wagons to ensure freedom from contamination. There will be a loading bank for the storage and transference of goods and pumps for petrol and oil. The buildings are encircled by a private roadway, and the works are in close proximity to the principal docks and warehouses.
Sweden's First Trolleybus.
The first demonstration of a trolleybus in Sweden recently took place in the town of Vasteras, where trials were made with a Swedish-built vehicle of a new type. The trials were carried out on a special 700-m. long stretch outside the Asea works, which supplied the electrical equipment.
The bus is a single-decker, seating 24 persons with standing room for a 92
further 11 passengers and is equipped with an engine of 105 b.h.p., giving a top speed of 38 m.p.h. The trials are reportqd to have been satisfactory.
Much interest has lately been shown in trolleybuses by the municipal authorities in various Swedish cities. A trolleybus service will probably be established in Gothenburg in the near future, and Stockholm and Malm8 are expected to follow suit later.
Discussion on Trunk-road Design.
At an informal meeting of the Institution of Civil Engineers, to be held on December 7, at 6 p.m., at Great George Street, London. S.W.1, the design of trunk roads for high speed and safety is the subject for discussion. It will be introduced by Mr. H. E. Alding,ton, M.Inst.C.E., and Mr. F. C. Cook, C.B., D.S.O., MC., will occupy the chair. THE MINISTER OF TRANSPORT AND RATE-CUTTING.
We have received information that whilst it is not denied that the Minister, in connection with a recent deputation, stated that he could not exclude possibility of departure, in a downward direction, from the standard rates, it was not his intention to convey the impression that he would encourage ratecutting.
His words were also not meant tr9 imply that in the case of any rates stabilization for the industry, those decided upon should be the maximum rates.
Any reduction of the standard rates, however, would have to be considered after an application made to the area rates committee, in a manner somewhat similar to that prescribed for the railways in connection with their exceptional rat-s.