One Hears—
2nd December 1938
Page 35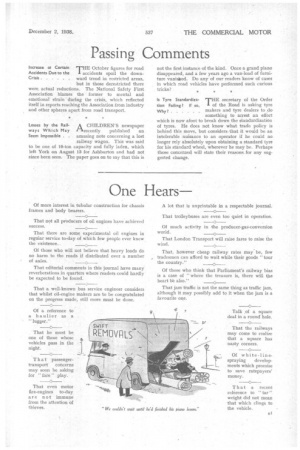 Page 35, 2nd December 1938 —
One Hears—
Close
Of more interest in tubular construction for chassis frames and body bearers.
That not all producers of oil engines have achieved success.
That there are some experimental oil engines in regular service to-day of which few people ever knew the existence..
Of those who will not believe that heavy loads do no harm to the roads if distributed over a number of axles.
That editorial comments in this journal have many reverberations in quarters where readers could hardly be expected to be found.
That a well-known bus service engineer considers that whilst oil-engine makers are to be congratulated on the progress made, still more must be done.
Of a reference to a haulier as a " lugger."
That he must be one of those whose vehicles pass in the night.
That passengertransport concerns may soon be asking for " fare " play.
That even motor fire-engines to-day are not immune from the attention of thieves. A lot that is unprintable in a respectable journal. That trolleybuses are even too quiet in operation.
Of much activity in the producer-gas-conversion world. 0 That London Transport will raise fares to raise the wind.
That, however cheap railway rates may be, few tradesmen can afford to wait while their goods "tour the country." 0 Of those who think that Parliament's railway bias is a case of "where the treasure is, there will the heart be also."
That jam traffic is not the same thing as traffic jam, although it may possibly add to it when the jam is a favourite one.
Talk of a square deal in a round' hole.
That the railways may come to realize that a square has nasty corners.
Of white-linespraying developments which promise to save ratepayers' money.
That a recent reference to " tar " weight did not mean that which clings to the vehicle,