Are the Railways Off the Rails ?
2nd December 1938
Page 33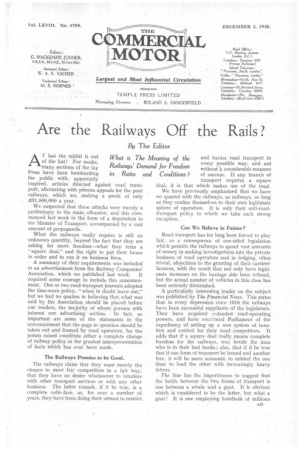 Page 34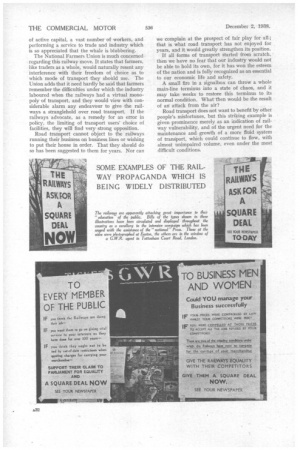 Page 33, 2nd December 1938 —
Are the Railways Off the Rails ?
Close
By The Editor T last the rabbit is out of the hat! For weeks, many. sections of the lay Press have been bombarding the public with, apparently inspired, articles directed against road transport, alternating with piteous appeals for the poor railways, which are making a profit of only 31,000,000 a year.
We suspected that these attacks were merely a preliminary to the main offensive, and this commenced last week in the form of a deputation to the Minister of Transport, accompanied by a vast amount of propaganda.
What the railways really require is still an unknown quantity, beyond the fact that they are asking for more freedom—what they term a "square deal," and the right to put their house in order and to run it on business lines.
A summary of their requirements was included in an advertisement from the Railway Companies' Association, which we published last week. It required some courage to include this announcement. One or two road-transport journals adopted the time-worn policy, "when in doubt leave out," but we had no qualms in believing that,what was said by the Association should be placed before our readers, the majority of whom peruses with interest our advertising section. In fact, so important are some of the statements in thefl announcement that the page in question should be taken out and framed by road operators, for the points raised constitute either a complete change of railway policy or the greatest misrepresentation of facts which has ever been made.
The Railways Promise to be Good.
The railways claim that they want merely the chance to meet fair competition in a fair way, that they have no desire whatsoever to interfere with other transport services or with any other business. The latter remark, if it be true, is a complete volte-face, as, for over a number of years, they have been doing their utmost to restrict What is The Meaning of the and harass road transport in every possible way, and not Railways' Demand for Freedom without considerable measure in Rata and Conditions? of success. If any branch of transport requires a square deal, it is that which makes use of the road.
We have previously emphasized that we have no quarrel with the railways, as railways, so long as they confine themselves to their own legitimate sphere of operation. It is only their anti-roadtransport policy to which we take such strong exception.
Can We Believe in Fairies?
Road transport has for long been forced to play fair, as a consequence of one-sided legislation which permits the railways to spend vast amounts of money in making investigations into the private business of road operators and in lodging, often trivial, objections• to the granting of their carriers' licences, with the result that not only have legitimate increases on the haulage side been refused, but the actual number of vehicles in this class has been seriously diminished.
A particularly interesting leader on the subject was published by The Financial News. This states that in every depression since 1918 the railways have been successful suppliants of the legislature. They have acquired extended road-operating , powers, and have convinced Parliament of the expediency of setting up a new system of taxation and control for their road competitors. It adds that if a square deal really means complete freedom for the railways, woe betide the man who is in their bad books ; also, that if if be true that if one form of transport be bound and another free, it will be more economic to unbind the one than to load the other with increasingly heavy fetters.
The Star has the impertinence to suggest that the battle between the. two forms of transport is one between a whale and a gnat. It is obvious which is considered to be the latter, but what a gnat ! It is one employing hundreds of millions of active capital, a vast number of workers, and performing a service to trade and industry which is so appreciated that the whale is blubbering. The National Farmers Union is much concerned regarding this railway move. It states that farmers, like traders as a whole, would naturally resent any interference with their freedom of choice as to which mode of transport they should use. The Union adds that it need hardly be said that farmers remember the difficulties under which the industry laboured when the railways had a virtual monopoly of transport, and they would view with considerable alarm any endeavour to give the railways a stranglehold over road transport. If the railways advocate, as a remedy for an error in policy, the limiting of transport users' choice of facilities, they will find very strong opposition. Road transport cannot object to the railways running their business on business lines or wishing to put their house in order. That they should do so has been suggested to them for years. Nor can we complain at the prospect of fair play for all ; that is what road transport has not enjoyed for years, and it would greatly strengthen its position.
If all forms of transport started from scratch, then we have no fear that our industry would not be able to hold its own, for it has won the esteem of the nation and is fully recognized as an essential to our economic life and safety.
A small fire in a signalbox can throw a whole main-line terminus into a state of chaos, and it may take weeks to restore this terminus to its normal condition. What then would be the result of an attack from the air?
Road transport does not want to benefit by other people's misfortunes, but this striking example is given prominence merely as an indication of railway vulnerability, and of the urgent need for the maintenance and growth of a more fluid system of trangport, which could continue to flow, with almost unimpaired volume, even under the most difficult conditions.