Severn Link II
2nd August 1986
Page 8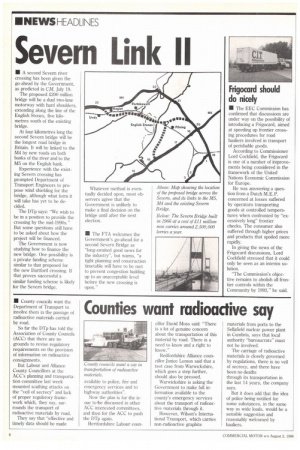 Page 8, 2nd August 1986 —
Severn Link II
Close
• A second Severn river crossing has been given the go-ahead by the Government, as predicted in CM, July 19.
The proposed £200 million bridge will be a dual two-lane motorway with hard shoulders, extending along the line of the English Stones, five kilometres south of the existing bridge.
At four kilometres long the second Severn bridge will be the longest road bridge in Britain. It will be linked to the M4 by new roads on both banks of the river and to the M5 on the English bank, Experience with the existing Severn crossing has prompted Department of Transport Engineers to propose wind shielding for the bridge, although what form it will take has yet to be decided.
The DTp says: "We wish to be in a position to provide the crossing by the mid-1990s." But some questions still have to be asked about how the project will be financed.
The Government is now studying how to finance the new bridge. One possibility is a private funding scheme similar to that proposed for the new Dartford crossing. If that proves successful a similar funding scheme is likely for the Severn bridge. Whatever method is eventually decided upon, most observers agree that the Government is unlikely to make a final decision on the bridge until after the next election.
• The FTA welcomes the Government's go-ahead for a second Severn Bridge as "long-awaited good news for the industry", but warns, "a tight planning and construction timetable will have to be met to prevent congestion building up to an unacceptable level before the new crossing is Open."