Frigocard should do nicely
2nd August 1986
Page 8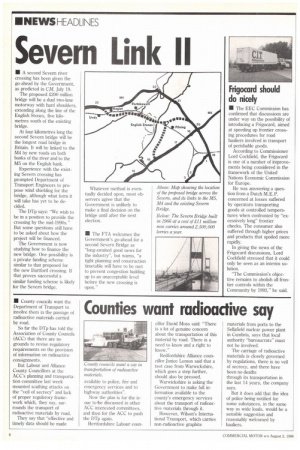 Page 8, 2nd August 1986 —
Frigocard should do nicely
Close
• The EEC Commission has confirmed that discussions are under way on the possibility of introducing a Frigocard, aimed at speeding up frontier crossing procedures for road hauliers involved in transport of perishable goods.
According to Commissioner Lord Cockfield, the Frigocard is one of a number of improvements being considered in the framework of the United Nations Economic Commission for Europe.
He was answering a question from a Dutch M.E.P. concerned at losses suffered by operators transporting goods at controlled temperatures when confronted by "excessively long" frontier checks. The consumer also suffered through higher prices and products that spoiled more rapidly.
In giving the news of the Frigocard discussions, Lord Cockfield stressed that it could only be seen as an interim solution.
"The Commission's objective remains to abolish all frontier controls within the Community by 1992," he said.