Counties want radioact ive say
2nd August 1986
Page 8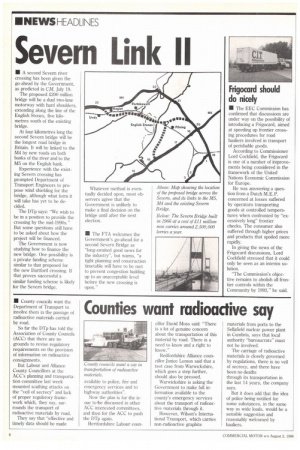 Page 8, 2nd August 1986 —
Counties want radioact ive say
Close
• County councils want the Department of Transport to involve them in the passage of radioactive materials carried by road.
So far the DTp has told the Association of County Councils (ACC) that there are no grounds to revise regulatory requirements on the provision of information on radioactive consignments.
But Labour and Alliance County Councillors at the ACC's planning and transportation committee last week mounted scathing attacks on the "veil of secrecy" and lack of proper regulatory framework which, they say, surrounds the transport of radioactive materials by road.
They say that "effective and timely data should be made available to police, fire and emergency services and to highway authorities".
Now the plan is for the issue to be discussed in other ACC interested committees, and then for the ACC to push the DTp again.
Hertfordshire Labour coun cillor David Moss said: "There is a lot of genuine concern about the transportation of this material by road. There is a need to know and a right to know."
Bedfordshire Alliance councillor Janice Lemon said that a test case from Warwickshire, which goes a step further, should also be pressed.
Warwickshire is asking the Government to make full information available to the county's emergency services about the transport of radioactive materials through it.
However, Wilson's International Transport, which carries non-radioactive graphite materials from ports to the Sellafield nuclear power plant in Cumbria, says that local authority "bureaucrats" must not be involved.
The carriage of radioactive materials is closely governed by regulations, there is no veil of secrecy, and there have been no deaths through its transportation in the last 14 years, the company says.
But it does add that the idea of police being notified for some substances, in the same way as wide loads, would be a sensible suggestion and reasonably welcomed by hauliers.