TRIPLE TRIAL
2nd August 1986
Page 35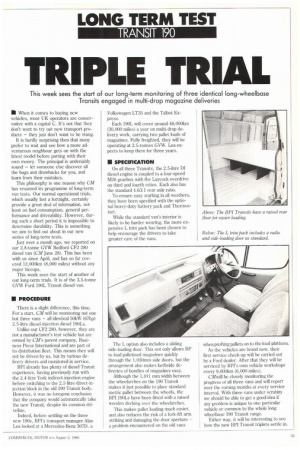 Page 35, 2nd August 1986 —
TRIPLE TRIAL
Close
This week sees the start of our long-term monitoring of three identical long-wheelbase Transits engaged in multi-drop magazine deliveries
II When it comes to buying new vehicles, most UK operators are conservative with a capital C. It's not that they don't want to try out new transport products — they just don't want to be stung.
It is hardly surprising then that many prefer to wait and see how a more adventurous neighbour gets on with the latest model before parting with their own money. The principal is undeniably sound — let someone else discover all the bugs and drawbacks for you, and learn from their mistakes.
This philosophy is one reason why CM has resumed its programme of long-term van tests. Our normal operational trials, which usually last a fortnight, certainly provide a great deal of information, not least on fuel consumption, general performance and driveability. However, during such a short period it is impossible to determine durability. This is something we aim to find out about in our new series of long-term tests.
Just over a month ago, we reported on our 2.8-tonne GVW Bedford CF2 280 diesel van (CM June 28). This has been with us since April, and has so far covered 12,000km (8,000 miles) without any major hiccups.
This week sees the start of another of our long-term trials. It is of the 3.5-tonne GVW Ford 190L Transit diesel van.
• PROCEDURE There is a slight difference, this time. For a start, CM will be monitoring not one but three vans — all identical 50kW (67hp) 2.5-litre diesel-injection diesel 190Ls.
Unlike our CF2 280, however, they are not a manufacturer's test vehicle but are owned by CM's parent company, Business Press International and are part of its distribution fleet. This means they will not be driven by us, but by various delivery drivers and monitored in service.
BPI already has plenty of diesel Transit experience, having previously run with the 2.4-litre York indirect-injection engine before switching to the 2.5-litre direct-injection block in the old 190 Transit body. However, it was no foregone conclusion that the company would automatically take the new Transit, despite its common driveline.
Indeed, before settling on the three new 190s, BPI's transport manager Alan Lea looked at a Mercedes-Benz 307D, a Volkswagen L1'35 and the Talbot Express.
Each 190L will cover around 48,0001un (30,000 miles) a year on multi-drop delivery work, carrying two pallet loads of magazines. Fully freighted, they will be operating at 3.5-tonnes GVW. Lea expects to keep them for three years.
• SPECIFICATION On all three Transits, the 2.5-litre DI diesel engine is coupled to a four-speed M26 gearbox with the Laycock overdrive on third and fourth ratios. Each also has the standard 4.63:1 rear axle ratio.
To ensure easy starting in all weathers, they have been specified with the optional heavy-duty battery pack and Thermostart.
While the standard van's interior is likely to be harder wearing, the more expensive L trim pack has been chosen to help encourage the drivers to take greater care of the vans.
The L option also includes a sliding side-loading door. This not only allows BP. to load palletised magazines quickly through the 1,030mm side doors, but the arrangement also makes kerbside deliveries of bundles of magazines easy.
Although the 1,011 mm width between the wheelarches on the 190 Transit makes it just possible to place standard metric pallet between the wheels, the BPI 190Ls have been fitted with a raised wooden decking over the wheelarches.
This makes pallet loading much easier, and also reduces the risk of a fork-lift arm striking and damaging the door aperture — a problem encountered on the old vans when pushing pallets on to the load platform.
As the vehicles are brand new, their first service check-up will be carried out by a Ford dealer. After that they will be serviced by BPI's own vehicle workshops every 9,600km (6,000 miles).
CMwill be closely monitoring the progress of all three vans and will report over the coming months at every service interval. With three vans under scrutiny we should be able to get a good idea if any problem is unique to one particular vehicle or common to the whole long wheelbase 190 Transit range.
Either way, it will be interesting to see how the new BPI Transit triplets settle in.