AMONG TN TOP TIPPERS
2nd August 1986
Page 24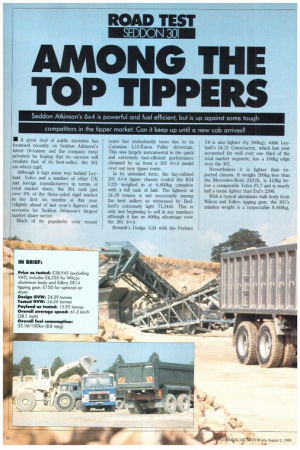 Page 25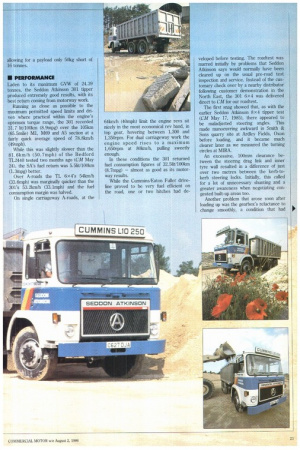 Page 26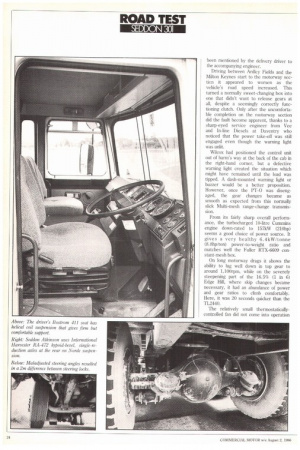 Page 27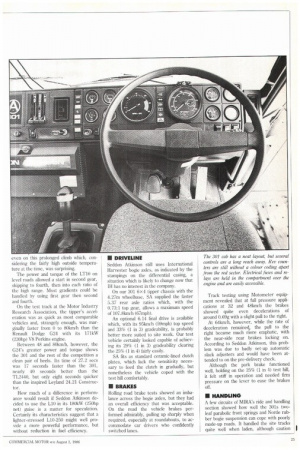 Page 28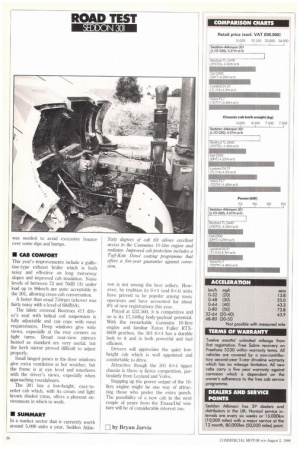 Page 24, 2nd August 1986 —
AMONG TN TOP TIPPERS
Close
Seddon Atkinson's 6)(4 is powerful and fuel efficient, but is up against some tough competitors in the tipper market. Can it keep up until a new cab arrives?
• A great deal of public attention has focussed recently on Seddon Atkinson's latest 16-tonner and the company must privately be hoping that its success will emulate that of its best-seller, the 301 six-wheel rigid.
Although it lags some way behind Leyland, Volvo and a number of other UK and foreign manufacturers in terms of total market share, the 301 took just over 8% of the three-wded rigid market in the first six months of this year (slightly ahead of last year's figures) and accounts for Seddon Atkinson's largest market share sector.
Much of its popularity over recent years has undoubtedly been due to its Cummins L10/Eaton Fuller drivetrain. This was largely instrumental in the quick and extremely fuel-efficient performance obtained by us from a 301 8x4 model over our new tipper route.
In its unbodied form, the day-cabbed 301 6x4 tipper chassis (coded the R24 L22) weighed in at 6,850kg complete with a full tank of fuel. The lightest at 24.39 tonnes is not necessarily among the best sellers as witnessed by Bedford's extremely light TL2440. This is only just beginning to sell in any numbers although it has an 800kg advantage over the 301 6x4.
Renault's Dodge G24 with the Perkins V8 is also lighter (by 300kg), while Leyland's 24.21 Constructor, which last year accounted for well over one third of the total market segment, has a 100kg edge over the 301.
Nevertheless it is lighter than imported chassis. It weighs 200kg less than the Mercedes-Benz 2421K, is 415kg below a comparable Volvo FL7 and is nearly half a tonne lighter than Dafs 2300.
With a typical aluminium bulk body from Wilcox and Edbro tipping gear, the 301's unladen weight is a respectable 8,440kg, allowing for a payload only 50kg short of 16 tonnes.
• PERFORMANCE
Laden to its maximuin GVW of 24.39 tonnes, the Seddon Atkinson 301 tipper produced extremely good results, with its best return coming from motorway work.
Running as close as possible to the maximum permitted speed limits and driven where practical within the engine's optimum torque range, the 301 recorded 31.7 lit/1001trn (8.9mpg) over the 105km (65.5mile) Ml, M69 and AS section at a fairly quick average speed of 78.8km/h (49mph).
While this was slightly slower than the 81. 6km/h (50.7mph) of the Bedford TL2440 tested two months ago (CM May 24), the SA's fuel return was 5.51it/100km (1.3mpg) better.
Over A-roads the TL 6x 4's 54krn/h (33.6mph) was marginally quicker than the 301's 53.21cm/h (33.1mph) and the fuel consumption margin was halved.
On single carriageway A-roads, at the 64km/h (40mph) limit the engine revs sit nicely in the most economical rev band, in top gear, hovering between 1,300 and 1,350rpm. For dual carriageway work the engine speed rises to a maximum 1,650rpm at 80km/h, pulling sweetly enough.
In these conditions the 301 returned fuel consumption figures of 32.51it/100km (8.7mpg) — almost as good as its motorway results.
While the Cummins/Eaton Fuller driveline proved to be very fuel efficient on the road, one or two hitches had de veloped before testing. The roadtest was marred initially by problems that Seddon Atkinson says would normally have been cleared up on the usual pre-road test inspection and service. Instead of the customary check over by a nearby distributor following customer demonstration in the North East, the 301 6x4 was delivered direct to CM for our roadtest.
The first snag showed that, as with the earlier Seddon Atkinson 8x4 tipper test (CM May 17, 1985), there appeared to be maladjusted steering angles. This made manoeuvring awkward in Smith & Sons quarry site at Ardley Fields, Oxon before loading, and it became much clearer later as we measured the turning circles at MIRA.
An excessive, 100mm clearance between the steering drag link and inner tyre wall resulted in a difference of just over two metres between the kerb-tokerb steering locks. Initially, this called for a lot of unnecessary shunting and a greater awareness when negotiating congested built-up areas too.
Another problem that arose soon after loading up was the gearbox's reluctance to change smoothly, a condition that had been mentioned by the delivery driver to the accompanying engineer.
Driving between Ardley Fields and the Milton Keynes start to the motorway sec tion it appeared to worsen as the vehicle's road speed increased. This turned a normally sweet-changing box into one that didn't want to release gears at all, despite a seemingly correctly functioning clutch. Only after the uncomforta ble completion on the motorway section did the fault become apparent, thanks to a sharp-eyed service engineer from Vee and In-line Diesels at Daventry who noticed that the power take-off was still engaged even though the warning light was unlit.
Wilcox had positioned the control unit out of harm's way at the back of the cab in the right-hand corner, but a defective warning light created the situation which might have remained until the load was tipped. A dash-mounted warning light or buzzer would be a better proposition. However, once the PT-0 was diseng aged, the gear changes became as smooth as expected from this normally slick Multi-mesh range-change transmission.
From its fairly sharp overall performance, the turbocharged 10-litre Cummins engine down-rated to 157kW (210hp) seems a good choice of power source. It gives a very healthy 6.4kW/tonne (8.8hp/ton) power-to-weight ratio and matches well the Fuller RTX-6609 constant-mesh box.
On long motorway drags it shows the ability to lug well down in top gear to around 1,100rpm, while on the severely steepening part of the 16.5% (1 in 6) Edge Hill, where skip changes became necessary, it had an abundance of power and gear ratios to climb comfortably. Here, it was 20 seconds quicker than the TL2440.
The relatively small thermostaticallycontrolled fan did not come into operation even on this prolonged climb which, considering the fairly high outside temperature at the time, was surprising.
The power and torque of the LT10 on level roads allowed a start in second gear, skipping to fourth, then into each ratio of the high range. Most gradients could be handled by using first gear then second and fourth.
On the test track at the Motor Industry Research Association, the tipper's acceleration was as quick as most comparable vehicles and, strangely enough, was marginally faster from 0 to 80kin/h than the Renault Dodge G24 with its 171kW (230hp) V8 Perkins engine.
Between 48 and 801uniti, however, the G24's greater power and torque shows the 301 and the rest of the competition a clean pair of heels. Its time of 27.2 secs was 17 seconds faster than the 301, nearly 40 seconds better than the TI.2440, but only eight seconds quicker than the inspired Leyland 24.21 Constructor.
How much of a difference in performance would result if Seddon Atkinson decided to use the LIO in its 180kW (250hp net) guise is a matter for speculation. Certainly its characteristics suggest that a lighter-stressed L10-250 might well provide a more powerful performance, but without reduction in fuel efficiency. • DRIVELINE Seddon Atkinson still uses International Harvester bogie aides, as indicated by the stampings on the differential casing, a situation which is likely to change now that IH has no interest in the company.
On our 301 6x 4 tipper chassis with the 4.27m wheelbase, SA supplied the faster 5.37 rear axle ratios which, with the 0.73:1 top gear, allows a maximum speed of 107.8km/h (67mph).
An optional 6.14 final drive is available which, with its 95km/h (59mph) top speed and 33% (1 in 3) gradeability, is probably better more suited to site work. Our test vehicle certainly looked capable of achieving its 29% (1 in 3) gradeability clearing the 25% (1 in 4) fairly easily.
SA fits as standard ceramic-lined clutch plates, which lack the sensitivity necessary to feed the clutch in gradually, but nonetheless the vehicle coped with the test hill comfortably.
• BRAKES Rolling road brake tests showed an imbalance across the bogie axles, but they had an overall efficiency that was acceptable. On the road the vehicle brakes performed admirably, pulling up sharply when required, especially at roundabouts, to accommodate car drivers who confidently switched lanes. Track testing using Motometer equipment revealed that at full pressure applications at 32 and 48krath the brakes showed quite even decelerations of around 0.69g with a slight pull to the right.
At 64km/h, however, while the rate of deceleration remained, the pull to the right became much more emphatic, with the near-side rear brakes locking on. According to Seddon Atkinson, this problem was due to badly set-up automatic slack adjusters and would have been attended to on the pre-delivery check.
Although the park brake functioned well, holding on the 25% (1 in 4) test hill, it felt stiff in operation and needed firm pressure on the lever to ease the brakes off.
• HANDLING A few circuits of MIRA's ride and handling section showed how well the 301s twoleaf parabolic front springs and Norde rubber bogie suspension can cope with poorly made-up roads. It handled the site tracks quite well when laden, although caution
was needed to avoid excessive bounce over some dips and bumps.
• CAB COMFORT
.1.1iis year's improvements include a guillotine-type exhaust brake which is both noisy and effective on long motorway slopes and improved cab insulation. Noise levels of between 72 and 76dB (A) under load up to 96km/h are quite acceptable in the 301, allowing cross-cab conversation.
A faster than usual 750rpm tickover was fairly noisy with a level of 68dB(A).
The fabric covered Bostrom 411 driver's seat with helical coil suspension is fully adjustable and can cope with most requirements. Deep windows give wide views, especially at the rear corners on tight turns. Broad rear-view mirrors heated as standard are very useful, but the kerb mirror proved difficult to adjust properly.
Small hinged panes in the door windows give extra ventilation in hot weather, but the frame is at eye level and interferes with the driver's views, especially when approaching roundabouts.
The 301 has a low-height, easy-toenter cab which, with its cream and light brown shaded trims, offers a pleasant environment in which to work.
• SUMMARY In a market sector that is currently worth around 5,000 units a year, Seddon Atkin son is not among the best sellers. However, by tradition its 6x4 (and 8x4) units have proved to be popular among many operators and have accounted for about 8% of new registrations this year.
Priced at £32,560, it is competitive and so is its 17,540kg body-payload potential. With the remarkable Cummins 10-litre engine and familiar Eaton Fuller RTX6609 gearbox, the 301 6x4 has a durable look to it and is both powerful and fuel efficient.
Drivers will appreciate the quiet lowheight cab which is well appointed and comfortable to drive.
Attractive though the 301 6x4 tipper chassis is there is fierce competition, particularly from Leyland and Volvo.
Stepping up the power output of the 10litre engine might be one way of attracting those who prefer the extra punch. The possibility of a new cab in the next couple of years from the Enasa/Daf venture will be of considerable interest too.
fl by Bryan Jarvis I