PUBLICATION
2nd August 1986
Page 22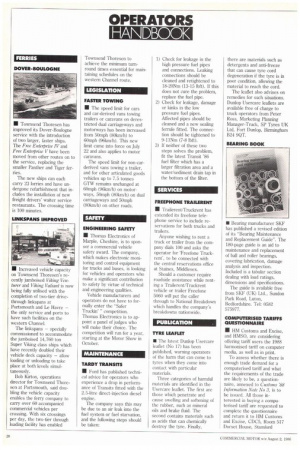 Page 22, 2nd August 1986 —
PUBLICATION
Close
TYRE LEAFLET
• The latest Dunlop Usercare leaflet (No 17) has been published, warning operators of the harm that can come to tyres when they come into contact with particular materials.
Three categories of harmful materials are identified in the Usercare leaflet. The first are those which penetrate and cause swelling and softening of the rubber, such as mineral oils and brake fluid. The second contains materials such as acids that can chemically destroy the tyre. Finally, there are materials such as detergents and anti-freeze that can cause tyre cord degeneration if the tyre is in poor condition, allowing the material to reach the cord.
The leaflet also advises on remedies for such situations. Dunlop Usercare leaflets are available free of charge to truck operators from Peter Ross, Marketing Planning Manager-Truck, SP Tyres UK Ltd, Fort Dunlop, Birmingham B24 9QT.