Campaign attacks pay deal
2nd August 1986
Page 18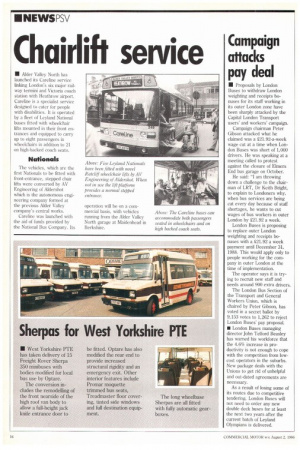 Page 18, 2nd August 1986 —
Campaign attacks pay deal
Close
• Proposals by London Buses to withdraw London weighting and receipts bonuses for its staff working in its outer London zone have been sharply attacked by the Capital London Transport users' and workers' campaign.
Campaign chairman Peter Gibson attacked what he claimed was a 221.92-a-week wage cut at a time when London Buses was short of 1,000 drivers. He was speaking at a meeting called to protest against the closure of Elmers End bus garage on October.
He said: "I am throwing down a challenge to the chairman of LRT, Dr Keith Bright, to explain to Londoners why, when bus services are being cut every day because of staff shortages, he wants to cut wages of bus workers in outer London by 221.92 a week.
London Buses is proposing to replace outer London weighting and receipts bonuses with a £21.92 a week payment until December 31, 1988. This would apply only to people working for the company in outer London at the time of implementation.
The operator says it is trying to recruit new staff and needs around 900 extra drivers.
The London Bus Section of the Transport and General Workers Union, which is chaired by Peter Gibson, has voted in a secret ballot by 9,153 votes to 1,262 to reject London Buses' pay proposal.
• London Buses managing director John Telford Beasley has warned his workforce that the 4.6% increase in productivity is not enough to cope with the competition from lowcost operators in the suburbs. New package deals with the Unions to get rid of unhelpful and out-dated agreements are necessary.
As a result of losing some of its routes due to competitive tendering, London Buses will not need to order any new double deck buses for at least the next two years after the current batch of Leyland Olympians is delivered.