Michie's terms eased
2nd August 1986
Page 12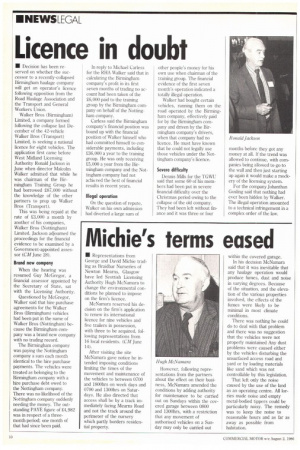 Page 12, 2nd August 1986 —
Michie's terms eased
Close
• Representations from George and David Michie trading as Braidbar Nurseries of Newton Mearns, Glasgow have led Scottish Licensing Authority Hugh McNamara to change the environmental conditions he planned to impose on the firm's licence.
McNamara reserved his decision on the firm's application to renew its international licence for nine vehicles and five trailers in possession, with three to be acquired, following representations from 16 local residents. (CM June 14).
After visiting the site McNamara gave notice he intended imposing conditions limiting the times of the movement and maintenance of the vehicles to between 0700 and 1800hrs on week days and 0700 and 1300hrs on Saturdays. He also directed that access shall be by a track immediately facing Mearns Road and not the track around the perimeter of the nursery which partly borders residential property. However, following representations from the partners about the effect on their business, McNamara amended the conditions by adding authority for maintenance to be carried out on Sundays within the covered garage between 0800 and 1300hrs, with a restriction that any movement of authorised vehicles on a Sunday may only be carried out within the covered garage.
In his decision McNamara said that it was inevitable that any haulage operation would produce fumes, dust and noise in varying degrees. Because of the situation, and the elevation of the various properties involved, the effects of the fumes were likely to be minimal in most climate conditions.
There was nothing he could do to deal with that problem and there was no suggestion that the vehicles were not properly maintained Any dust problems were caused either by the vehicles disturbing the unsurfaced access road and yard or by loading materials like sand which was not controllable by this legislation.
That left only the noise caused by the use of the land as an operating centre. All lorries made noise and empty metal-bodied tippers could be particularly noisy. The remedy was to keep the noise to reasonable hours and as far as away as possible from habitation.