'This social tax is non-starter'
2nd April 1976
Page 6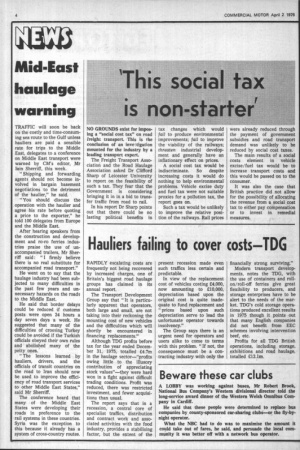 Page 6, 2nd April 1976 —
'This social tax is non-starter'
Close
Keywords :
Taxation
,
Transport
,
Transport Economics
,
Motoring Taxation In The United Kingdom
,
Public Economics
,
Energy In The United Kingdom
,
Political Economy
,
Environmental Economics
,
Fuel Tax
,
Tax
,
Excise
,
Vehicle Excise Duty
,
Business / Finance
NO GROUNDS exist for imposing a "social cost tax" en road It-eight transport. This is the conclusion of an inve;tigation mounted for the industry by a leading transport expert.
The Freight Transport Association and the Road Haulage Association asked Dr Clifford Sharp of Leicester University to report on the feasibility of such a tax. They fear that the Government is considering bringing it in in a bid to transfer traffic from road to rail.
In his report Dr Sharp points out that there could be no lasting political benefits in tax changes which would fail to produce environmental improvements; fail to improve the viability of the railways; threaten industrial development and generally have an inflationary effect on prices.
A social cost tax would be indiscriminate. So despite increasing costs it would do nothing to help environmental problems. Vehicle excise duty and fuel tax were not suitable proxies for a pollution tax, the report goes on.
Such a tax would be unlikely to improve the relative position of the railways. Rail prices were already reduced through the payment of government subsidies and road transport demand was unlikely to be reduced by social cost taxes.
The main results of a social costs element in vehicle excise/fuel tax would be to increase transport costs and this would be passed on to the consumer.
It was also the case that British practice did not allow for the possibility of allocating the revenue from a social cost tax to either pay compensation or to invest in remedial measures.