Unpalletable
2nd April 1976
Page 32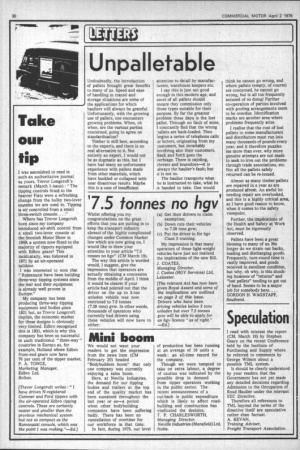 Page 32, 2nd April 1976 —
Unpalletable
Close
Undoubtedly, the introduction of pallets brought great benefits to many of us. Speed and ease of handling in transit and storage situations are some of the applications for which hauliers will always be grateful. Unfortunately, with the growing use of pallets, one encounters growing problems. When, oh when, are the various parties concerned, going to agree on standardisation?
Timber is still best, according to the experts, and there is no real alternative to it. Not entirely an expert, I would not be as dogmatic as this, but I have had many an unfortunate experience with pallets made from other materials, which have buckled or collapsed with near disastrous results. Maybe this is a case of insufficient attention to detail by manufacturers, warehouse keepers etc.
I say this is just not good enough in this modern age, and users of all pallets should ensure they commission only those types suitable for their purpose. By far the greatest problem these days is the lost pallet. Through no fault of mine, I constantly find that the wrong ?allets are back-loaded. Then begins a series of telephone calls or letters, originating from my customers, but invariably involving also their customers. Back and forth goes the verbiage. There is cajoling, threats and inuendoes—it is always the haulier's fault; but it is not so.
The haulier transports what he is instructed to take, what he is handed to take. One would think he cannot go wrong, and where pallets (empty, of course) are concerned, he cannot go wrong, but is all too frequently accused of so doing! Further co-operation of parties involved with pooling arrangements seem to be overdue. Identification marks are another area where problems frequently arise.
I realise that the cost of lost pallets to some manufacturers and distributors must run into many thousands of pounds every year, and it therefore puzzles me more than ever, why more genuine attempts are not made to seek to iron out the problems through trade associations, etc. Not all the pallets safely returned can be re-issued.
Almost as many timber pallets are repaired in a year as are produced afresh. An awful lot needing repair are overlooked, and this is a highly critical area, as I have good reason to know, when it comes to the safety viewpoint.
Further, the implications of the Health and Safety at Work Act, must be rigorously observed.
Pallets have been a great blessing to many of us. No longer do we strain our backs, loading and discharging goods. Frequently, turn-round time is vastly improved, and goods received in excellent condition, but why, oh why, is this shocking business of "returns" and "lost pallets" tending to get out of hand. Seems to be a major job for somebody here.... GORDON H. WAGSTAFF, Southend,