Mini boom
2nd April 1976
Page 32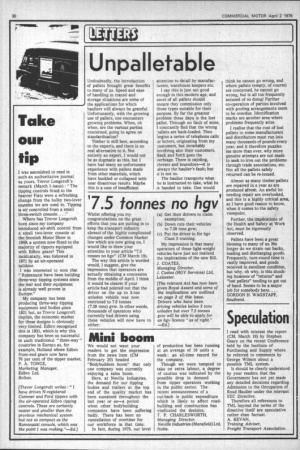 Page 32, 2nd April 1976 —
Mini boom
Close
We would not want your readers to get the 'impression from the news item (CM February 20) headed "Bodybuilders boom" that only one company was currently enjoying a sales boom.
Here, at Neville Industries, the demand for our tipping bodies and trailers at the top end of the quality market has been sustained throughout the last year ar so—a period when other bodybuilding companies have been suffering badly. There has been no cancellation of overtime for our workforce in that time.
In fact, during 1975, our level of production has been running at an average of 16 units a week: an all-time record for the company.
Though we were tempted to take on extra labour, a degree of caution was indicated by the possible drop in demand from tipper operators working in the public sector. The recent announcement of a cut-back in public expenditure which is likely to affect roadbuilding and construction has vindicated the decision.
T. P. CHARLESWORTH. Managing Director, Neville Industries (Mans field)Ltd, Notts.