'7.5 tonnes no h
2nd April 1976
Page 32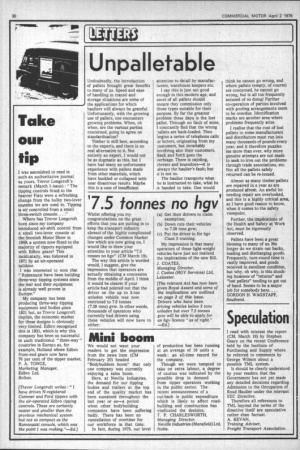 Page 32, 2nd April 1976 —
'7.5 tonnes no h
Close
Whilst offering you my congratulations on the great efforts that you are putting in to keep the transport industry abreast of the highly complicated changes under Common Market law which are now going on, I would like to draw your attention to your article "7.5 tonnes no hgv" (CM March 19).
The way this article is worded would, I suggest, give the impression that operators are actually obtaining a concession from the middle of April. I think it would be clearer if your article had pointed out that the driver on the up to 3-ton unladen vehicle was now restricted to 7.5 tonnes (7.38 tons) gvw. In other words, thousands of operators who currently had drivers using these vehicles will now have to either: (a) Get their drivers to claim exemption; (b) Down rate their vehicles to 7.38 tons gvw; (c) Put the driver in for hgv Class 3 training.
My impression is that many operators of these light-weight vehicles have just not realised the implications of the new Bill. J. COATES, Managing Director, J. Coates (HGV Services) Ltd, Leicester.
[The relevant Act has now been given Royal Assent and some of the implications are outlined on page 2 of this issue.
Drivers who have been driving vehicles below 3 tons unladen but over 7.5 tonnes gvw will be able to apply for an hgv licence "as of right." —Ed.]