DRIVING WITH YOUR HEAD
2nd April 1976
Page 28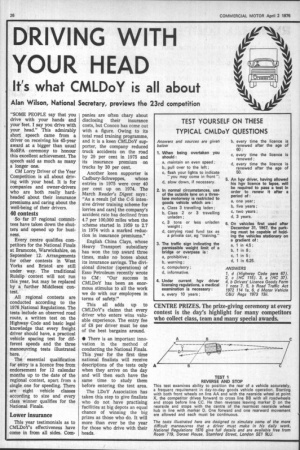 Page 28, 2nd April 1976 —
DRIVING WITH YOUR HEAD
Close
It's what CMLDoY is all about
Alan Wilson, National Secretary, previews the 23rd competition
"SOME PEOPLE say that you drive with your hands and your feet. I say you drive with your head." This admirably short speech came from a driver on receiving his 45-year award at a bigger than usual RoSPA ceremony to honour this excellent achievement. The speech said as much as many a longer one.
CM Lorry Driver of the Year Competition is all about driving with your head. It is for companies and owner-drivers who are both really hardheaded about their insurance premiums and caring about the well-being of their drivers.
40 contests
So far 37 regional committees have taken down the shutters and opened up for business.
Every centre qualifies competitors for the National Finals at Bramcote, Warwickshire, on September 12. Arrangements for other contests in West Yorks and Bristol are still under way. The traditional Ruislip contest will not run this year, but may be replaced by a further Middlesex contest.
All regional contests are conducted according to the 1976 National Regulations. The tests include an observed road route, a written test on the Highway Code and basic legal knowledge that every freight driver should have, a practical vehicle spacing test for different speeds and the three manoeuvring tests illustrated here.
The essential qualification for entry is a licence free from endorsement for 12 calendar months up to the date of the regional contest, apart from a single one for speeding. There are eight vehicle classes according to size and every class winner qualifies for the National Finals.
Lower insurance
This year testimonials as to CMLDoY's effectiveness have come in from all sides. Com panies are often chary about disclosing their insurance costs, but Conoco has come out with a figure. Owing to its total road training programme, and it is a keen CMLDoY supporter, the company reduced truck accidents on the road by 29 per cent in 1975 and its insurance premium on trucks by 30 per cent.
Another keen supporter is Cadbury-Schweppes, whose entries in 1975 were over 40 per cent up on 1974. The March Reader's Digest says : "As a result [of the C-S intensive driver training scheme for lorries and cars] the company's accident rate has declined from 4.7 per 100,000 miles when the scheme started in 1959 to 2.7 in 1974 with a marked reduction in insurance premiums."
English China Clays, whose Heavy Transport subsidiary has won the top award three times, make no bones about its insurance savings. The divisional director (operations) of Esso Petroleum recently wrote to CM: "Our success in CMLDoY has been an enormous stimulus to all the work we do with our employees in terms of safety."
This all adds up to CMLDoY's claims that every driver who enters wins valuable experience. The entry fee of £8 per driver must be one of the best bargains around.
• There is an important innovation in the method of conducting the National Finals. This year for the first time national finalists will receive descriptions of the tests only when they arrive on the day and will then each have the same time to study them before entering the test area.
The LIDDY Association has taken this step to give finalists who do not have practising facilities at big depots an equal chance of winning the big prizes as those who do. It will more than ever be the year for those who drive with their heads.