(PEOPLE__ j
2nd April 1976
Page 18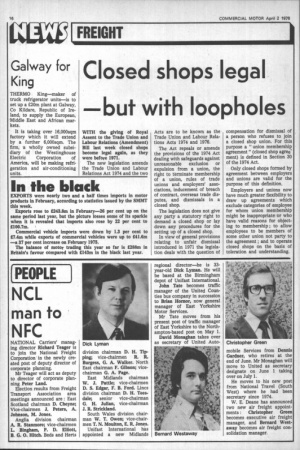 Page 18, 2nd April 1976 —
(PEOPLE__ j
Close
NCL
man to
NFC
NATIONAL Carriers' managing director Richard Teager is to join the National Freight Corporation in the newly created post of deputy director of corporate planning.
Mr Teager will act as deputy to director of corporate planning Peter Land.
Election results from Freight Transport Association area meetings announced are : East Scotland chairman D. Cheyne; Vice-chairmen J. Peters, A. Johnson, M. Jones.
Anglia division chairman A. R. Stanmore; vice-chairmen L. Bingham, P. D. Elliott, B. G. 0. Hitch. Beds and Herts division chairman D. H. Tipping; vice-chairmen R. R. Burgess, G. A. Walker. North East chairman F. Gibson; vicechairman G. A. Page.
East Midlands chairman W. J. Pattie; vice-chairmen D. S. Edgar, F. B. Ford. Lincs division chairman D. H. Teesdale; senior vice-chairman G. H. Julian, vice-chairman J. R. Strickland.
South Wales division chairman W. T. Owen; vice-chairmen T. N. Moulton, E. R. Jones.
Uni fast International has appointed a new Midlands regional director—he is 33year-old Dick Lyman. He will be based at the Birmingham depot of Unifast International.
John Tate becomes traffic manager of the United Counties bus company in succession to Brian Homor, now general manager of East Yorkshire Motor Services.
Mr Tate moves from his present post of traffic manager of East Yorkshire to the Northampton-based post on May 1.
David Monaghan takes over as secretary of United Auto mobile Services from Dennis Gardner, who retires at the end of June. Mr Monaghan will move to United as secretary designate on June 1 taking over on July 1.
He moves to his new post from National Travel (South West) where he had been secretary since 1974.
W. E. Deane has announced two new air freight appointments: Christopher Green becomes executive air freight manager, and Bernard Westaway becomes air freight consolidation manager.