Closed shops legal but with loopholes
2nd April 1976
Page 18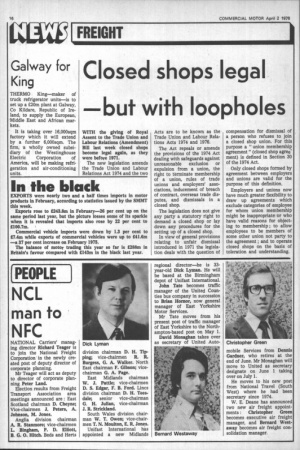 Page 18, 2nd April 1976 —
Closed shops legal but with loopholes
Close
WITH the giving of Royal Assent to the Trade Union and Labour Relations (Amendment) Bill last week closed shops become legal again, as they were before 1971.
The new legislation amends the Trade Union and Labour Relations Act 1974 and the two Acts are to be known as the Trade Union and Labour Relations Acts 1974 and 1976.
The Act repeals or amends the provisions of the 1974 Act dealing with safeguards against unreasonable exclusion or expulsion from a union, the right to terminate membership of a union, rules of trade unions and employers' associations, inducement of breach of contract, overseas trade disputes, and dismissals in a closed shop.
The legislation does not give any party a statutory right to demand a closed shop or lay down any procedures for the setting up of a closed shop.
In view of general provisions relating to unfair dismissal introduced in 1971 the legislation deals with the question of compensation for dismissal of a person who refuses to join a closed shop union. For this purpose a "union membership agreement " (closed shop agreement) is defined in Section 30 of the 1974 Act.
Only closed shops formed by agreement between employers and unions are valid for the purpose of this definition.
Employers and unions now have much greater flexibility to draw up agreements which exclude categories of employee for whom union membership might be inappropriate or who have valid reasons for objecting to membership ; to allow employees to be members of some other union not party to the agreement ; and to operate closed shops on the basis of toleration and understanding.