Through Turkey more smoothly
2nd April 1976
Page 17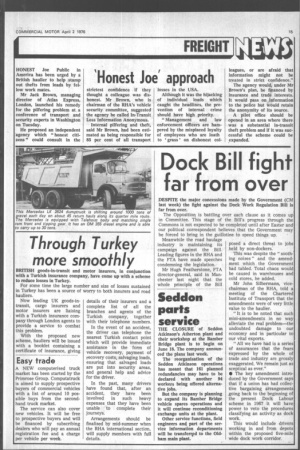 Page 17, 2nd April 1976 —
Through Turkey more smoothly
Close
BRITISH goods-in-transit and motor insurers, in conjunction with a Turkish insurance company, have come up with a scheme to reduce losses in Turkey.
For some time the large number and size of losses sustained in Turkey has been a source of worry to both insurers and road hauliers.
Now leading UK goods-intransit, cargo insurers and motor insurers are liaising with a Turkish insurance company through London agents to provide a service to combat this problem.
With the proposed new scheme, hauliers will be issued with a booklet containing a certificate of insurance, giving details of their insurers and a complete list of all the branches and agents of the Turkish company, together with their telephone numbers.
In the event of an accident, the driver can telephone the nearest Turkish contact point which will provide immediate assistance in the form of vehicle recovery, payment of recovery costs, salvaging loads, ensuring that salvaged loads are put into security areas, and general help and advice for the driver.
In the past, many drivers have found that, after an accident, they have been involved in such heavy expenses that they have been unable to complete their journeys.
Arrangements should be finalised by mid-summer when the RHA international section, will supply members with full details.