'Honest Joe' approach
2nd April 1976
Page 17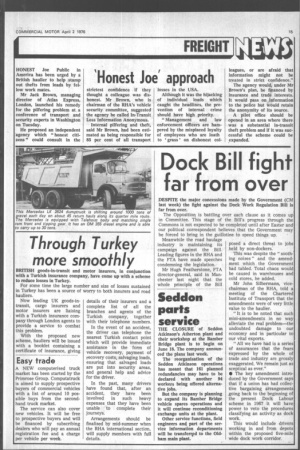 Page 17, 2nd April 1976 —
'Honest Joe' approach
Close
strictest confidence if they thought a colleague was dishonest. Mr Brown, who is chairman of the RHA's vehicle security committee, suggested the agency be called In-Transit Loss Information Anonymous.
Internal pilfering and theft, said Mr Brown, had been estimated as being responsible for 85 per cent of all transport losses in the USA.
Although it was the hijacking of individual loads which caught the headlines, the prevention of internal crime should have high priority.
"Management and law enforcement officers are hampered by the misplaced loyalty of employees who are loath to grass' on dishonest col leagues, or are afraid that information might not be treated in strict confidence."
The agency would, under Mr Brown's plan, be financed by insurance and trade interests. It would pass on information to the police but would retain the anonymity of its source.
A pilot office should be opened in an area where there was a substantial in-transit theft problem and if it was successful the scheme could be expanded.