Dock Bill fight far from over
2nd April 1976
Page 17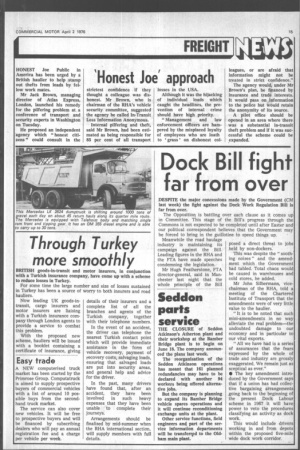 Page 17, 2nd April 1976 —
Dock Bill fight far from over
Close
Keywords :
James Madison
,
1st United States Congress
,
American Enlightenment
,
Presidency Of George Washington
,
United States Bill Of Rights
,
United States Constitution
,
Dockers
,
Constitutional Amendment
,
Politics
,
Government
,
Politics
DESPITE the major concessions made by the Government (CM last week) the fight against the Dock Work Regulation Bill is far from over.
The Opposition is battling over each clause as it comes up in Committee. This stage of the Bill's progress through the Commons is not expected to be completed until after Easter and our political correspondent believes that the Government may be forced to bring in the guillotine to speed things up.
Meanwhile the road haulage industry is maintaining its campaign against the Bill. Leading figures in the RHA and the ETA have made speeches condemning the legislation.
Mr Hugh Featherstone, FTA director-general, said in Manchester last night that the whole principle of the Bill posed a direct threat to jobs held by non-dockers.
This was despite the " sooth-. ing noises" and the amendment which the Government had tabled. Total chaos would be caused in warehouses and cold stores, he added.
Mr John Silbermann, vicechairman of the RHA, told a meeting of the Chartered Institute of Transport that the amendments were of very little value to the haulier.
"It is to be noted that such mini-amendments in no way alleviate the real problem—the undoubted damage to our economy and in particular to our vital exports.
" All we have had is a series of assurances that the fears expressed by the whole of trade and industry are grossly exaggerated. We remain just as sceptical as ever."
• The key amendment introduced by the Government says that if a union has had collective bargaining arrangements going back to the beginning of the present Dock Labour scheme in 1967 it will have power to veto the procedures classifying an activity as dock work.
This would include drivers working in and from depots within the proposed five-mile wide dock work corridor.