Q The decimalization of our money
2nd April 1971
Page 51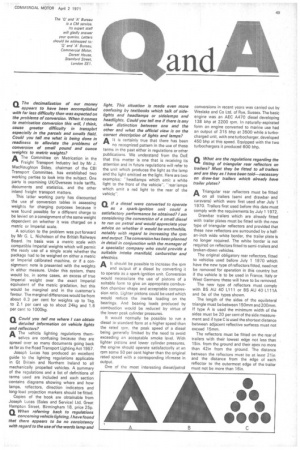 Page 51, 2nd April 1971 —
Q The decimalization of our money
Close
appears to have been accomplished with far less difficulty than was expected on the problems of conversion. When it comes to metrication conversion this will, I think, cause greater difficulty in transpbrt especially in the parcels and smalls field. Could you tell me what is being done in readiness to alleviate the problems of conversion of small pound and ounce weights to metric weights?
AThe Committee on Metrication in the
Freight Transport Industry led by Mr J. MacNaughton Sidey, chairman of the CBI Transport Committee, has established two working parties to look into the subject. One party is examining UK/Overseas trade tariffs, documents and statistics, and the other inland freight transport matters.
This latter working party has discounted the use of conversion tables in assessing weights for charging purposes because it was found possible for a different charge to be levied on a consignment of the same weight dependent on whether it was charged on a metric or Imperial scale.
A solution to the problem was put forward by Mr G. L. Nicholson of the British Railways Board. Its basis was a metric scale with compatible Imperial weights which will permit the ready use of a single scale whether the package had to be weighed on either a metric or Imperial calibrated machine, or if a consignment note is presented with the weights in either measure. Under this system, there would be, in some cases, an excess of true Imperial weight over the exact Imperial equivalent of the metric gradation, but this would be marginal and in the customer's favour. The marginal differences would be from about 6.3 per cent for weights up to 1kg, to 2.1 per cent up to about 24kg and 1.6 per cent to 1000kg.