Q If a diesel were converted to operate
2nd April 1971
Page 51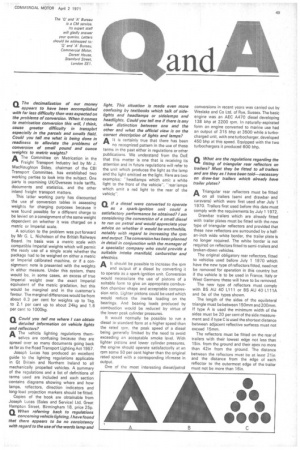 Page 51, 2nd April 1971 —
Q If a diesel were converted to operate
Close
as a spark-ignition unit could a satisfactory performance be obtained? I am considering the conversion of a small diesel to run on petrol and would appreciate your advice on whether it would be worthwhile, notably with regard to increasing the rpm and output The conversion has been planned in detail in conjunction with the manager of a specialist company who could provide a suitable intake manifold, carburetter and electrics.
AIt should be possible to increase the rpm
and output of a diesel by converting it to operate as a spark-ignition unit. Conversion would necessitate the use of pistons of a suitable form to give an appropriate combustion chamber shape and acceptable compression ratio. Lighter pistons could be used which would reduce the inertia loading on the bearings. And bearing loads produced by .combustion would be reduced by virtue of the lower peak cylinder pressures.
It would normally be possible to run a diesel in standard form at a higher speed than the rated rpm, the peak speed of a diesel being generally limited by the need to avoid exceeding an acceptable smoke level. With lighter pistons and lower cylinder pressures, the engine should operate satisfactorily at an rpm some 50 per cent higher than the original rated speed with a corresponding iricrease in output.
One of the most interesting diesel/petrol conversions in recent years was carried out by Weslake and Co Ltd, of Rye, Sussex. The basic engine was an AEC A470 diesel developing 138 bhp at 2200 rpm. In naturally-aspirated form an engine converted to marine use had an output of 315 bhp at 3500 while a turbocharged unit, with one turbocharger, developed 450 bhp at this speed. Equipped with the two turbochargers it produced 600 bhp.