4-10W 71
2nd April 1971
Page 46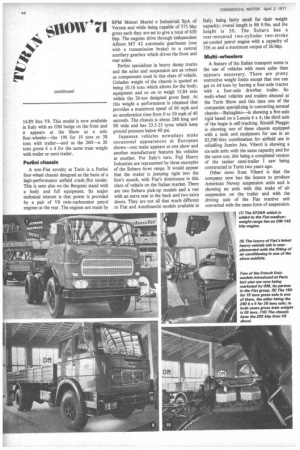 Page 46, 2nd April 1971 —
4-10W 71
Close
14.89 litre V8. This model is now available in Italy with an OM badge on the front and it appears at the Show as a solo four-wheeler—the 190 for 19 tons or 38 tons with trailer—and as the 260—a 26 tons groos 6 x 4 for the same train weight with trailer or semi-trailer.
Perlini chassis A non-Fiat novelty at Turin is a Perlini four-wheel chassis designed as the basis of a high-performance airfield crash /fire tender. This is seen also on the Bergomi stand with a body and full equipment. Its major technical interest is that power is provided by a pair of V8 twin-carburettor petrol engines at the rear. The engines are made by BPM Motori Marini c Industriali SpA of Verona and while being capable of 375.bhp gross each they are set to give a total of 630 bhp. The engines drive through independent Allison MT 42 automatic gearboxes (one with a transmission brake) to a central auxiliary gearbox which drives the front and rear axles.
Perlini specializes in heavy dump trucks and the axles and suspension are as robust as components used in this class of vehicle. Unladen weight of the chassis is quoted as being 10.16 tons which allows for the body, equipment and so on to weigh 15.84 tons within the 26-ton designed gross limit. At this weight a performance is obtained that provides a maximum speed of 60 mph and an acceleration time from 0 to 50 mph of 40 seconds. The chassis is about 28ft long and 911 wide and has 23.5-25 tyres which keep ground pressure below 40 psi. Japanese vehicles nowadays make occasional appearances at European shows—one make appears at one show and another manufacturer features his vehicles at another. For Italy's turn, Fuji Heavy Industries are represented by three examples of the Subaru 6cwt range. It would appear that the maker is jumping right into the lion's mouth, with Fiat's dominance in this class of vehicle on the Italian market. There are two Subaru pick-up models and a van with an extra seat in the back and two extra doors. They are not all that much different .to Fiat and Autobianchi models available in Italy, being fairly small for their weight capacity; overal length is 9ft 9.9in. and the height is 5ft. The Subaru has a rear-mounted two-cylinder two-stroke air-cooled petrol engine with a capacity of 356 cc and a maximum output of 26-blip.
Multi-wheelers A feature of the Italian transport scene is the use of vehicles with more axles than appears necessary. .There are pretty restrictive weight limits except that one can get to 44 tonsby having a four-axle tractor with a four-axle drawbar trailer. So multi-wheel vehicles and trailers abound at the Turin Show and this time one of the companies specializing in converting normal
chassis—Battaglino—is showing a five-axle
rigid based on a Lancia 6 x 4; the third axle of the bogie is self-tracking. Rinaldi Piaggio is showing one of these chassis equipped with a tank and equipment for use in an 82,500-litre combination for airfield use in refuelling Jumbo Jets. Viberti is showing a six-axle artic with the same capacity and for the same use, this being a completed version of the tanker semi-trailer I saw being constructed in Turin two years ago.
Other news from Viberti is that the company now has the licence to produce American Neway suspension units and is showing an artic with this make of air suspension on the trailer and with the driving axle of the Fiat tractive unit converted with the same form of suspension.