meet
2nd April 1971
Page 42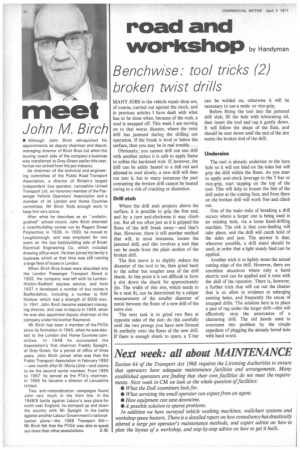 Page 42, 2nd April 1971 —
meet
Close
John M. Birch
• Although John Birch relinquished his appointments as deputy chairman and deputy managing director of Birch Bros Ltd when the touring coach side of the company's business was transferred to Grey-Green earlier this year, he has not retired from the psv industry.
As chairman of the technical and engineering committee of the Public Road Transport Association, a director of Britain's largest independent bus operator, Lancashire United Transport Ltd, an honorary member of the Pas senger Vehicle Operators Association and a member of its London and Home Counties committee, Mr Birch finds enough work to keep him very active.
After what he describes as an "undistinguished" school record, John Birch attended a coachbuilding course run by Regent Street Polytechnic in 1928. In 1930, he moved to Loughborough, and was employed for two years on the bus bodybuilding side of Brush Electrical Engineering Co, which included drawing office work. He then joined h is family's business which at that time was still running a large fleet of buses in London.
When Birch Bros buses were absorbed into the London Passenger Transport Board in 1933, the company was left with its London Hitchin-Bedford express service, and from 1937 it developed a number of bus routes in Bedfordshire, including a number to RAF Henlow which had a strength of 8000 men. In 1941 John Birch became assistant manag ing director, and rose to deputy in 1949, when he was also appointed deputy chairman of the company under his brother Raymond.
Mr Birch has been a member of the PVOA since its formation in 1945, when he was elec ted to the London and Home Counties com mittee. In 1948 he succeeded the Association's first chairman Freddy Speight, of Grey-Green, for a period of office of three years. John Birch joined what was then the Public Transport Association in February 1950 —one month after W. Moris Little—and claims to be the second senior member. From 1955 to 1957 he served as the PTA's chairman. In 1956 he became a director of Lancashire United..
Two anti-nationalization campaigns found John very much in the front line. In the 1948/9 battle against Labour's area plans for north-east England, he stomped up and down the country with Mr Speight. In the battle against another Labour Government's nationalization plans—the 1968 Transport Bill— Mr Birch felt that the PVOA was able to speak
out more than other associations. D.M.