bird's eye view by the Hawk
2nd April 1971
Page 37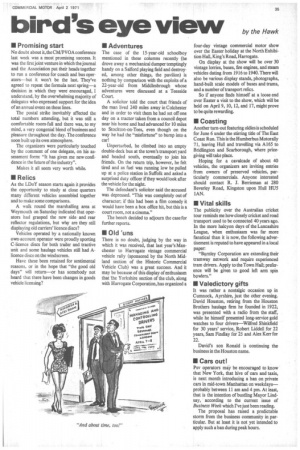 Page 37, 2nd April 1971 —
bird's eye view by the Hawk
Close
• Promising start
No doubt about it, the CM/P VOA conference last week was a most promising success. It was the first joint venture in which the journal and the Association put their heads together to run a conference for coach and bus operators—but it won't be the last. They've agreed to repeat the formula next spring—a decision in which they were encouraged, I understand, by the overwhelming majority of delegates who expressed support for the idea of an annual event on these lines.
The postal strike inevitably affected the total numbers attending, but it was still a comfortable room-full and there was, to my mind, a very congenial blend of business and pleasure throughout the day. The conference soon built up its own atmosphere.
The organizers were particularly touched by the comment of one delegate, on his assessment form: "It has given me new confidence in the future of the industry".
Makes it all seem very worth while.
• Relics
As the LDoY season starts again it provides the opportunity to study at close quarters many different vehicles assembled together and to make some comparisons.
A walk round the marshalling area at Weymouth on Saturday indicated that operators had grasped the new side and rear reflector regulations, but why are they still displaying old carriers' licence discs?
Vehicles operated by a nationally known own-account operator were proudly sporting C-licence discs for both trailer and tractive unit and some haulage vehicles still had Alicence discs on the windscreen.
Have these been retained for sentimental reasons, or in the hope that "the good old days" will return—or has somebody not heard that there have been changes in goods vehicle licensing?
• Adventures
The case of the 15-year-old schoolboy mentioned in these columns recently (he drove away a mechanical dumper temptingly handy on a Salford playing field and destroyed, among other things, the pavilion) is nothing by comparison with the exploits of a 22-year-old from Middlesbrough whose adventures were discussed at a Teesside Court.
A solicitor told the court that friends of the man lived 240 miles away in Colchester and in order to visit them he had set off one day on a tractor taken from a council depot near his home and had advanced for 10 miles to Stockton-on-Tees, even though on the way he had the "misfortune" to bump into a car!
Unperturbed, he climbed into an empty double-deck bus at the town's transport yard and headed south, eventually to join his friends. On the return trip, however, he felt tired and as fuel was running low he pulled up at a police station in Suffolk and asked a surprised duty officer if they would look after the vehicle for the night.
The defendant's solicitor said the accused was depressed. "This was completely out of character; if this had been a film comedy it would have been a box office hit, but this is a courtroom, not a cinema."
The bench decided to adjourn the case for further reports.
• Old 'uns
There is no doubt, judging by the way in which it was received, that last year's Manchester to Harrogate vintage commercial vehicle rally (sponsored by the North Midland section of the Historic Commercial Vehicle Club) was a great success. And it may be because of this display of enthusiasm that the Yorkshire section of the club, along with Harrogate Corporation, has organized a
four-day vintage commercial motor show over the Easter holiday at the North Exhibition Hall, King's Road, Harrogate.
On display at the show will be over 30 vintage lorries, buses, fire engines, and steam vehicles dating from 1916 to 1940. There will also be various display stands, photographs, hand-built scale models of buses and trams, and a number of transport relics.
So if anyone finds himself at a loose end over Easter a visit to the show, which will be held on April 9, 10, 12, and 17, might prove to be quite rewarding.
• Coasting
Another turn-out featuring oldies is scheduled for June 6 under the stirring title of The East Coast Run. This is the Humberbus Motorally 71, leaving Hull and travelling via A165 to Bridlington and Scarborough, where prizegiving will take place.
Hoping for a cavalcade of about 40 vehicles, the organizers are inviting entries from owners of preserved vehicles, particularly commercials. Anyone interested should contact R. J. Berrieman at 280 Beverley Road, Kingston upon Hull HU5 IAN.
• Vital skills
The publicity over the Australian cricket tour reminds me how closely cricket and road transport used to be connected 40 years ago. In the more halcyon days of the Lancashire League, when enthusiasm was far more fanatical than it is now, the following advertisement is reputed to have appeared in a local paper: "Burnley Corporation are extending their tramway network and require experienced tram drivers. Apply to the Town Hall; preference will be given to good left arm spin bowlers."
• Valedictory gifts
It was rather a nostalgic occasion up in Cumnock, Ayrshire, just the other evening. David Houston, retiring from the Houston Brothers haulage firm he founded in 19224 was presented with a radio from the staff, while he himself presented long-service gold watches to four drivers—Wilfred Shinkfield for 30 years' service, Robert Liddell for 22 years, Sam Findlay for 25 and Alex Kerr for 22.
David's son Ronald is continuing the business in the Houston name.
• Cars out!
Psv operators maY be encouraged to know that New York, that hive of cars and taxis, is next month introducing a ban on private cars in mid-town Manhattan on weekdays— probably between 11 sin and 4 pm. At least, that is the intention of bustling Mayor Lindsay, ' according to the current issue of Business Week which I've just been reading.
The proposal has raised a predictable storm from the business community in particular. But at least it is not yet intended to apply such a ban during peak hours.