Dodges to aid quick 747 turnround
2nd April 1971
Page 34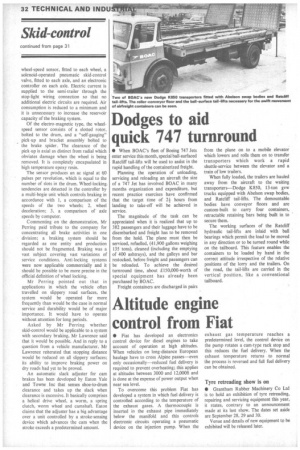 Page 34, 2nd April 1971 —
Dodges to aid quick 747 turnround
Close
• When BOAC's fleet of Boeing 747 Jets enter service this month, special ball-surfaced Ratcliff tail-lifts will be used to assist in the rapid handling of the containerized freight.
Planning the operation of unloading, servicing and reloading an aircraft the size of a 747 Jet has involved BOAC in many months organization and expenditure, but recent practice exercises have confirmed that the target time of 24 hours from landing to take-off will be achieved in service.
The magnitude of the task can be appreciated when it is realized that up to 382 passengers and their luggage have to be disembarked and freight has to be removed from the hold. The plane must then be serviced, refuelled, (41,900 gallons weighing 135 tons), cleaned (including the emptying of 400 ashtrays), and the galleys and bar restocked, before freight and passengers can be reloaded. To achieve the desired turnround time, about f150,000-worth of special equipment has already been purchased by BOAC.
Freight containers are discharged in pairs from the plane on to a mobile elevator which lowers and rolls them on to transfer transporters which work a rapid shuttle-service between the elevator and a train of low trailers.
When fully loaded, the trailers are hauled away from the aircraft to the waiting transporters—Dodge K850, 13-ton gvw trucks equipped with Abelson swap bodies, and Ratcliff tail-lifts. The demountable bodies have conveyor floors and are custom-built to carry four containers, retractable retaining 'bars being built in to secure them.
The working surfaces of the Ratcliff hydraulic tail-lifts are inlaid with ball bearings which permit the load to be moved in any direction or to be turned round while on the tailboard. This feature enables the containers to be loaded by hind in the correct attitude irrespective of the relative positions of the lorry and the trailers. On the road, the tail-lifts are carried in the vertical position, like a conventional tailboard.