New Italian and American all-axle skid-control systems
2nd April 1971
Page 33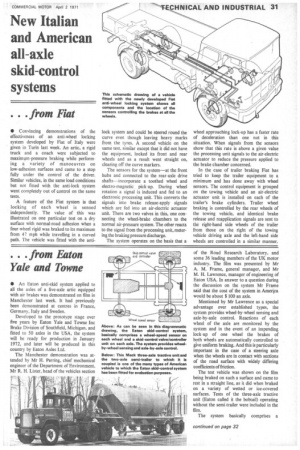 Page 33, 2nd April 1971 —
New Italian and American all-axle skid-control systems
Close
. . from Fiat
• Convincing demonstrations of the effectiveness of an anti-wheel locking system developed by Fiat of Italy were given in Turin last week. An artic, a rigid truck and a coach were subjected to maximom-pressure braking while performing a variety of manoeuvres on low-adhesion surfaces and came to a stop fully under the control of the driver. Similar vehicles, in the same load conditions but not fitted with the anti-lock system went completely out of control on the same tests.
A feature of the Fiat system is that locking of each wheel is sensed independently. The value of this was illustrated on one particular test on a dry surface with normal-road adhesion when a four-wheel rigid was braked to its maximum from 47 mph while travelling in a curved path. The vehicle was fitted with the anti lock system and could be steered round the curve even though leaving heavy marks from the tyres. A second vehicle on the same test, similar except that it did not have the equipment, locked its front and rear wheels and as a result went straight on, clearing off the curve markers.
The sensors for the system—at the front hubs and connected to the rear-axle drive shafts--incorporate a toothed wheel and elect ro-magnetic pick-up. During wheel rotation a signal is induced and fed to an electronic processing unit. This converts the signals into brake release-apply signals which are fed into an air-electric actuator unit. There are two valves in this, one connecting the wheel-brake chambers to the normal air-pressure system. The other reacts to the signal from the processing unit, metering the braking pressure discharge.
The system operates on the basis that a wheel approaching lock-up has a faster rate of deceleration than one not in this situation. When signals from the sensors show that this rate is above a given value the processing unit signals to the air-electric actuator to reduce the pressure applied to the brake chamber concerned.
In the case of trailer braking Fiat has tried to keep the trailer equipment to a minimum and has done away with wheel sensors. The control equipment is grouped on the towing vehicle and an air-electric actuator unit is installed on each of the trailer's brake cylinders. Trailer wheel braking is controlled by the rear wheels of the towing vehicle, and identical brake release and reapplication signals are sent to the right-hand side wheels of the trailer from those on the right of the towing vehicle driving axle and the left-hand side wheels are controlled in a similar manner.