. .• from Eaton Yale and Towne
2nd April 1971
Page 33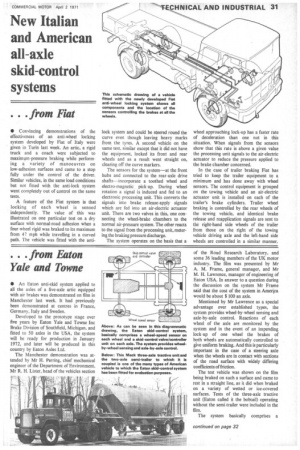 Page 34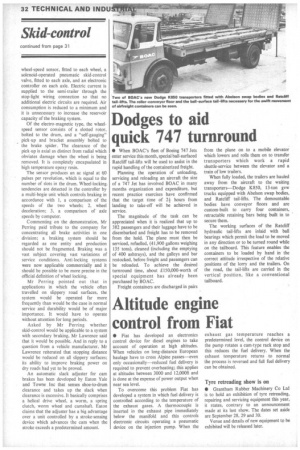 Page 33, 2nd April 1971 —
. .• from Eaton Yale and Towne
Close
• An Eaton anti-skid system applied to all the axles of a five-axle artic equipped with air brakes was demonstrated on film in Manchester last week. It had previously been demonstrated at centres in France, Germany. Italy and Sweden.
Developed to the prototype stage over five years by Eaton Yale and Towne Inc Brake Division of Southfield, Michigan, and fitted to 50 axles in the USA, the system will be ready for production in January 1972, and later will be produced in this country by Eaton Axles Ltd.
The Manchester demonstration was attended by Mr H. Perring, chief mechanical engineer of the Department of Environment. Mr R. H. Lister, head of the vehicles section of the Road Research Laboratory, and some 36 leading members of the UK motor industry. The film was presented by Mr A. M. Frame, general manager, and Mr M. H. Lawrence, manager of engineering of Eaton USA. In answer to a question during the discussion on the system Mr Frame said that the cost of the system in America would be about $ 100 an axle.
Mentioned by Mr Lawrence as a special advantage over established types, the system provides wheel-by-wheel sensing and axle-by-axle control. Reactions of each wheel of the axle are monitored by the system and in the event of an impending lock-up of one wheel the brakes of both wheels are automatically controlled to give uniform braking. And this is particularly important in the case of a steering axle when the wheels are in contact with sections of the road surface with widely differing coefficients of friction.
The test vehicle was shown on the film being braked on such a surface and came to rest in a straight line, as it did when braked on a variety of wetted or ice-covered surfaces. Tests of the three-axle tractive unit (Eaton called it the bobtail) operating without the semi-trailer were included in the film.
The system basically comprises a wheel-speed sensor, fitted to each wheel, a solenoid-operated pneumatic skid-control valve, fitted to each axle, and an electronic controller on each axle. Electric current is supplied to the semi-trailer through the stop-light wiring connection so that no additional electric circuits are required. Air consumption is reduced to a minimum and it is unnecessary to increase the reservoir capacity of the braking system.
Of the electro-magnetic type, the wheelspeed sensor consists of a slotted rotor, bolted to the drum, and a "self-gauging" pick-up and bracket assembly bolted to the brake spider. The clearance of the pick-up is axial as distinct from radial which obviates damage when the wheel is being removed. It is completely encapsulated in high temperature epoxy resin.
The sensor produces an an signal at 60 pulses per revolution, which is equal to the number of slots in the drum. Wheel-locking. tendencies are detected in the controller by a multi-bogie unit which controls braking in accordance with 1, a comparison of the speeds of the two wheels; 2, wheel deceleration; 3, a comparison of axle speeds by computer.
Commenting on the demonstration, Mr Perring paid tribute to the company for concentrating all brake activities in one division; a braking system should be regarded as one entity and production should not be fragmented. Braking was a vast subject covering vast variations of service conditions. Anti-locking systems were now applicable commercially and it should be possible to be more precise in the official definition of wheel locking.
Mr Perring pointed out that in applications in which the vehicle often travelled on slippery road surfaces, the system would be operated far more frequently than would be the case in normal service and durability would be of major importance. It would have to operate without attention for long periods.
Asked by Mr Perring whether skid-control would be applicable to a system with secondary braking, Mr Lawrence said that it would be possible. And in reply to a question from a vehicle manufacturer, Mr Lawrence reiterated that stopping distance would be reduced on all slippery surfaces; its ability to improve braking power on dry roads had yet to be proved.
An automatic slack adjuster for cam brakes has been developed by Eaton Yale and Towne . Inc that senses shoe-to-drum clearance and takes up the slack when clearance is excessive. It basically comprises a helical drive wheel, a worm, a spring clutch, worm wheel and camshaft. Eaton claims that the adjuster has a big advantage over a unit controlled by a stroke-sensing device which advances the cam when the stroke exceeds a predetermined amount.