Redesigned FD6 diesel in Foden dumper
2nd April 1971
Page 28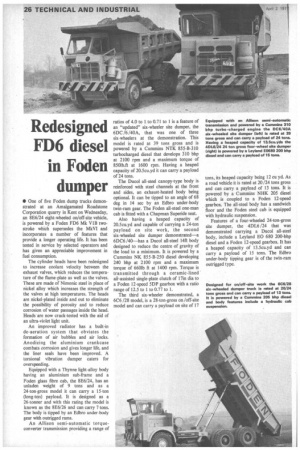 Page 28, 2nd April 1971 —
Redesigned FD6 diesel in Foden dumper
Close
• One of five Foden dump trucks demonstrated at an Amalgamated Roadstone Corporation quarry in Kent on Wednesday, an 8E6/24 eight-wheeled on/off-site vehicle, is powered by a Foden FD6 Mk VlB twostroke which supersedes the MkVI and incorporates a number of features that provide a longer operating life. It has been tested in service by selected operators and has given an appreciable improvement in fuel consumption.
The cylinder heads have been redesigned to increase coolant velocity between the exhaust valves, which reduces the temperature of the flame-plate as well as the valves. These are made of Nimonic steel in place of nickel alloy which increases the strength of the valves at high temperatures. The heads are nickel-plated inside and out to eliminate the possibility of porosity and to reduce corrosion of water passages inside the head. Heads are now crack-tested with the aid of an ultra-violet light unit.
An improved radiator has a built-in de-aeration system that obviates the formation of air bubbles and air locks. Anodizing the aluminium crankcase combats corrosion and gives longer life, and the liner seals have been improved. A torsional vibration damper caters for over speeding.
Equipped with a Thynne light-alloy body having an aluminium sub-frame and a Foden glass fibre cab, the 8E6/24, has an unladen weight of 9 tons and as a 24-ton-gross model it can carry a 15-ton (long-ton) payload. It is designed as a 26-tanner and with this rating the model is known as the 8E6/26 and can carry 7 tons. The body is tipped by an Edbro under-body gear with outrigged rams.
An Allison semi-automatic torqueconverter transmission providing a range of ratios of 4.0 to 1 to 0.71 to 1 is a feature of an "updated" six-wheeler site dumper, the 6DC /6 /40A, that was one of three six-wheelers at the demonstration. This model is rated at 39 tons gross and is powered by a Cununins NTK 855-8-310 turbocharged diesel that develops 310 bhp at 2100 rpm and a maximum torque of 850Ib.ft at 1600 rpm. Having a heaped capacity of 20.5cu.yd it can carry a payload of 24 tons.
The Ducol all-steel canopy-type body is reinforced with steel channels at the front and sides, an exhaust-heated body being optional. It can be tipped to an angle of 68 deg in 14 sec by an Edbro under-body twin-ram gear. The Foden all-steel one-man cab is fitted with a Chapman Superide seat.
Also having a heaped capacity of 20.5cu.yd and capable of carrying a 24-ton payload on site work, the second 'six-wheeled site dumper demonstrated—a 6DC6 /40—has a Ducol all-steel 1411 body designed to reduce the centre of gravity of the load to a minimum. It is powered by a Cummins NK 855-B-250 diesel developing 240 bhp at 2100 rpm and a maximum torque of 660Ib ft at 1400 rpm. Torque is transmitted through a ceramic-lined aii--assisted single-plate clutch of 17in dia to a Foden 12-speed 5DP gearbox with a ratio range of 12.5 to Ito 0.77 to 1.
The third six-wheeler demonstrated, a 6C6 /28 model, is a 28-ton-gross on/off-site model and can carry a payload on site of 17 tons, its heaped capacity being 12 cu yd. As a road vehicle it is rated at 20/24 tons gross and can carry a payload of 13 tons. It is powered by a Cummins NHK 205 diesel which is coupled to a Foden 12-speed gearbox. The all-steel body has a sandwich floor and the Foden steel cab is equipped with hydraulic suspension.
Features of a four-wheeled 24-ton-gross site dumper, the 4131;6 /24 that was demonstrated carrying a Ducal all-steel body, include a Leyland FO 680 200-bhp diesel and a Foden 12-speed gearbox. It has a heaped capacity of 13.5cu.yd and can carry a payload of 15 tons. The Edbro under-body tipping gear is of the twin-ram outrigged type.