Shearings acquire
2nd April 1971
Page 27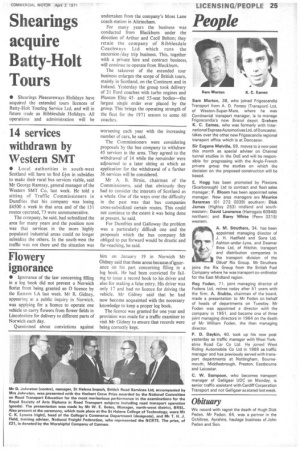 Page 27, 2nd April 1971 —
Shearings acquire
Close
Batty-Holt
Tours
• Shearings Pleasureways Holidays have acquired the extended tours licences of Batty-Holt Touring Service Ltd, and will in future trade as Ribblesdale Holidays. All operations and administration will be undertaken from the company's Moss Lane coach station in Altrincham.
For many years the business was conducted from Blackburn under the direction of Arthur and Cecil Bolton; they retain the company of Ribblesdale Coachways Ltd which runs the excursion /day trip business. This, together with a private hire and contract business, will continue to operate from Blackburn.
The takeover of the extended tour business enlarges the scope of British tours, mainly in Scotland, on the Continent and in Ireland. Yesterday the group took delivery of 21 Ford coaches with turbo engines and Plaxton Elite 45and 53-seat bodies—the largest single order ever placed by the group. This brings the operating strength of the fleet for the 1971 season to some 60 coaches.