14 services withdrawn by Western SMT
2nd April 1971
Page 27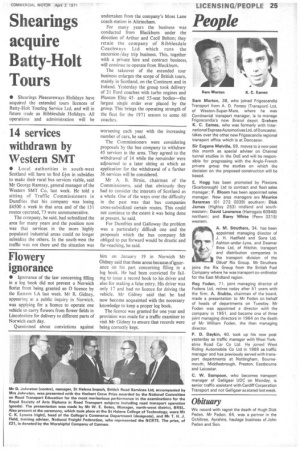 Page 27, 2nd April 1971 —
14 services withdrawn by Western SMT
Close
• Local authorities in south-west Scotland will have to find £4m in subsidies to make their rural bus services viable, said Mr George Ramsay, general manager of the Western SMT Co, last week. He told a sitting of Traffic Commissioners in Dumfries that his company was losing £4500 a week in that area and of the 131 routes operated, 73 were unremunerative.
The company, he said, had subsidized the area for many years and the position now was that services in the more highly populated industrial areas could no longer subsidize the others. In the south-west the traffic was not there and the situation was worsening each year with the increasing number of cars, he said.
The Commissioners were considering proposals by the bus company to withdraw 45 services in the area. They agreed to the withdrawal of 14 while the remainder were adjourned to a later sitting at which an application for the withdrawal of a further 36 services will be considered.
Mr A. B. Birnie, chairman of the Commissioners, said that obviously they had to consider the interests of Scotland as a whole. One of the ways over the difficulty in the past was that bus companies cross-subsidized certain routes. This could not continue to the extent it was being done at present, he said.
For Dumfries and Galloway the problem was a particularly difficult one and the proposals which the bus company felt obliged to put forward would be drastic and far-reaching, he said.