Five authorities object to United
2nd April 1971
Page 26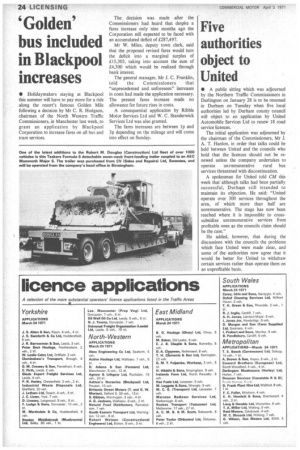 Page 26, 2nd April 1971 —
Five authorities object to United
Close
• A public sitting which was adjourned by the Northern Traffic Commissioners in Darlington on January 28 is to be resumed in Durham on Tuesday when five local authorities led by Durham county council will object to an application by United Automobile Services Ltd to renew 18 road service licences.
The initial application was adjourned by the chairman of the Commissioners, Mr J. A. T. Hanlon, in order that talks could be held between United and the councils who hold that the licences should not be renewed unless the company undertakes to operate unremunerative rural bus services threatened with discontinuation.
A spokesman for United told CM this week that. although talks had been partially successful, Durham still intended to maintain its objection. He said: "United operate over 300 services throughout the area, of which more than half are unremunerative. The stage has now been reached where it is impossible to crosssubsidize unremunerative services from profitable ones as the councils claim should be the case."
He added, however, that during the discussions with the councils the problems which face United were made clear, and some of the authorities now agree that it would be better for United to withdraw certain services rather than operate them on an unprofitable basis..