Yorkshire JOCs may merge
2nd April 1971
Page 25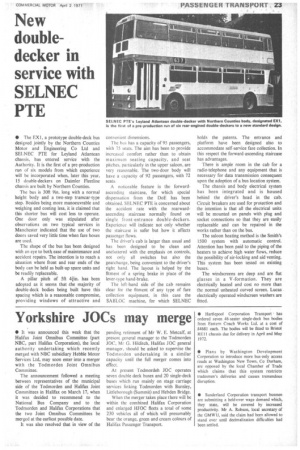 Page 25, 2nd April 1971 —
Yorkshire JOCs may merge
Close
• It was announced this week that the Halifax Joint Omnibus Committee (part NBC, part Halifax Corporation), the local authority undertaking which recently merged with NBC subsidiary Hebble Motor Services Ltd, may soon enter into a merger with the Todmorden Joint Omnibus Committee.
The announcement followed a meeting between representatives of the municipal side of the Todmorden and Halifax Joint Committees in Halifax on March 17, when it was decided to recommend to the National Bus Company and to the Todmorden and Halifax Corporations that the two Joint Omnibus Committees be merged at the earliest possible date.
It was also resolved that in view of the
pending retirment of Mr W. E. Metcalf, at present general manager to the Todmorden JOC, Mr G. Hilditch, Halifax .10C general manager, should be asked to supervise the Todmorden undertaking in a similar capacity until the full merger comes into effect.
At present Todmordeh JOC operates seven double .deck buses and 20 single-deck buses which run mainly on stage carriage services linking Todmorden with Burnley, Littleborough (Summit) and Hebden Bridge.
When the merger takes place there will be within the combined Halifax Corporation and enlarged HJOC fleets a total of some 230 vehicles all of which will presumably bear the orange, green and cream colours of Halifax Passenger Transport.