Future bus policies studied in multi-nation talks
2nd April 1971
Page 24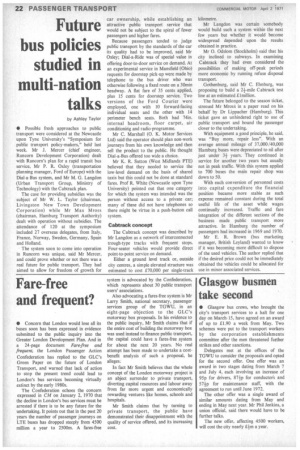 Page 24, 2nd April 1971 —
Future bus policies studied in multi-nation talks
Close
by Ashley Taylor • Possible fresh approaches to public transport were considered at the Newcastle upon Tyne University's "Symposium for public transport policy-makers," held last week. Mr J. Mercer (chief engineer, Runcorn Development Corporation) dealt with Runcorn's plan for a rapid transit bus service, Mr P. R. Oxley (transportation planning manager, Ford of Europe) with the Dial-a-Bus system, and Mr M. G. Langdon (Urban Transport Group, Ministry of Technology) with the Cabtrack plan.
The case for providing subsidies was the subject of Mr W. L. Taylor (chairman, Livingston New Town Development Corporation) while Mr Max Mross (chairman, Hamburg Transport Authority) dealt with operation without subsidies. The attendance of 120 at the symposium included 27 overseas delegates, from Italy, France, Norway, Sweden, Germany, Spain and Holland.
The system soon to come into operation in Runcorn was unique, said Mr Mercer, and could prove whether or not there was a real future for public transport. They had aimed to allow for freedom of growth for car ownership, while establishing an attractive public transport service that would not be subject to the spiral of fewer passengers and higher fares.
Because passengers tended to judge public transport by the standards of the car its quality had to be improved, said Mr Oxley; Dial-a-Ride was of special value in offering door-to-door service on demand. At an experimental service in Mansfield (Ohio) requests for doorstep pick-up were made by telephone to the bus driver who was otherwise following a fixed route on a 30min headway. A flat fare of 35 cents applied, plus 15 cents for doorstep service. Two versions of the Ford Courier were employed, one with 10 forward-facing individual seats and the other with 14 perimeter bench seats. Both had 74in. internal headroom, floor carpet, air conditioning and radio 'programme.
Mr C. Marshall (0. K. Motor Services Ltd) said the operator should plan non-work journeys from his own knowledge and then sell the product to the public. He thought Dial-a-Bus offered too wide a choice.
Mr K. R. Sutton (West Midlands PTE) believed that they needed to service the low-level demand on the basis of shared taxis but this could not be done at standard fares. Prof R. White (Newcastle upon Tyne University) pointed out that one category for which the system was intended was the person without access to a private car; many of these did not have telephones so there might be virtue in a push-button call system.
Cabtrack concept
The Cabtrack concept was described by Mr Langdon as a network of interconnected trough-type tracks with frequent stops. Four-seater vehicles would provide direct point-to-point service on demand.
Either a ground level track or, outside city centres, a simple elevated structure was estimated to cost £70,000 per single-track kilometre.
Mr Langdon was certain somebody would build such a system within the next few years but whether it would become widespread depended upon the results obtained in practice.
Mr 0. Odslom (Stockholm) said that his city inclined to subways. In examining Cabtrack they had even considered the possibilities of making off-peak periods more economic by running refuse disposal transport Gothenburg, said Mr C. Elmburg, was proposing to build a 2+-mile Cabtrack test line at an estimated Elmillion.
The future belonged to the season ticket, stressed Mr Mross in a paper read on his behalf by Dr Lippacher (Hamburg). This ticket gave an unhindered right to use of public transport and bound the passenger closer to the undertaking.
With equipment a good principle, he said, was "Buy more, repair less". With an average annual mileage of 37,000/40,000 Hamburg buses were depreciated to nil after just under 3+ years. They continued in service for another two years but usually not in peak traffic. With this system applied to 700 buses the main repair shop was down to 50.
With each conversion of personnel costs into capital expenditure the financial position became more stable as such expense remained constant during the total useful life of the asset while wages continually increased. Traffic and fare integration of the different sections of the business made public transport more attractive. In Hamburg the number of passengers had increased in 1969 and 1970.
Mr E. R. Brown (bus marketing manager, British Leyland) wanted to know if it was becoming more difficult to dispose of the used vehicles. The author replied that if the desired price could not be immediately obtained the vehicles could be allocated for use in minor associated services.
Tags
People
:
C. Elmburg
,
M. G. Langdon
,
Max Mross
,
J. Mercer
,
P. R. Oxley
,
C. Marshall
,
E. R. Brown
,
W. L. Taylor
,
Lippacher (Hamburg)
,
R. White
,
Ashley Taylor