Fare-free and frequent?
2nd April 1971
Page 24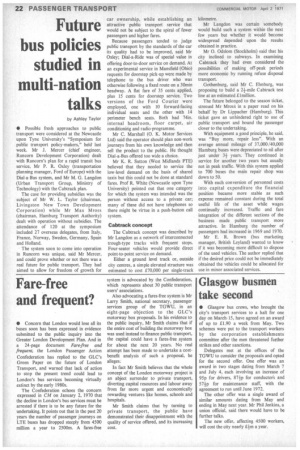 Page 24, 2nd April 1971 —
Fare-free and frequent?
Close
• Concern that London would lose all its buses soon has been expressed in evidence submitted to the public inquiry into the Greater London Development Plan. And in a 24-page document Fare-free and frequent, the London Passenger Action Confederation has replied to the GLC's Green Paper on the future of London Transport, and warned that lack of action to stop the present trend could lead to London's bus services becoming virtually extinct by the early 1980s.
The Confederation echoes the concern expressed in CM on January 2, 1970 that the decline in London's bus services must be arrested if there is to be any future for the undertaking. It points out that in the past 20 years the number of passenger journeys on LTE buses has dropped steeply from 4500 million a year to 2500m. A fares-free
system is advocated by the Confederation, which represents about 30 public transport users' associations.
Also advocating a fares-free system is Mr Larry Smith, national secretary, passenger services group of the TGWU, in an eight-page objection to the GLC's motorway box proposals. In his evidence to the public inquiry, Mr Smith claims that if the entire cost of building the motorway box was used instead to finance public transport, the capital could have a fares-free system for about the next 20 years. No real attempt has been made to undertake a costbenefit analysis of such a proposal, he alleges.
In fact Mr Smith believes that the whole concept of the London motorway project is an abject surrender to private transport, diverting capital resources and labour away from far more urgent and economically rewarding ventures like homes, schools and hospitals.
Mr Smith claims that by turning to private transport, the public have demonstrated their disappointment with the quality of service offered, and its increasing cost.