Transport restrictions can kill cities
2nd April 1971
Page 21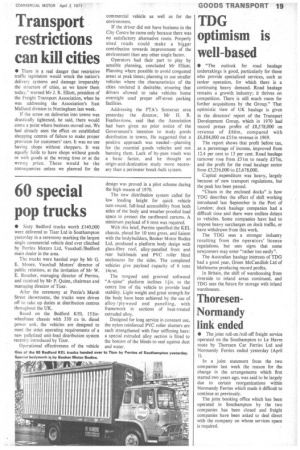 Page 21, 2nd April 1971 —
Transport restrictions can kill cities
Close
• There is a real danger that restrictive traffic legislation would wreck the nation's delivery systems and damage irreparably the structure of cities, as we know them today," warned Mr J. R. Elliott, president of the Freight Transport Association, when he was addressing the Association's East Midland division in Nottingham last week.
If the screw on deliveries into towns was drastically tightened, he said, there would come a point where business moved out. We had already seen the effect on established shopping centres of failure to make proper provision for customers' cars. It was no use having shops without shoppers. It was equally futile to have shops without goods or with goods at the wrong time or at the wrong price. These would be the consequences unless we planned for the commercial vehicle as well as for the environment.
If the driver did not have business in the City Centre he came only because there was no satisfactory alternative route. Properly sited roads could make a bigger contribution towards improvement of the environment than any other single factor.
Operators had their part to play by sensible planning, concluded Mr Elliott. Planning where possible to avoid congested areas at peak times; planning to use smaller vehicles where the characteristics of the cities rendered it desirable; ensuring that drivers allowed to take vehicles home overnight used proper off-street parking facilities.
Addressing the FTA's Somerset area yesterday the director, Mr H. R. Featherstone, said that the Association had been given no prior notice of the Government's intention to study goods distribution in towns. He suggested that a positive approach was needed—planning for the essential goods vehicles and not banning them. Lack of by-pass roads was a basic factor, and he thought an origin-and-destination study more necessary than a perimeter break-bulk system.