TDG optimism is well-based
2nd April 1971
Page 21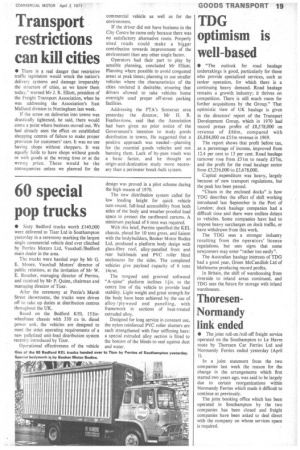 Page 21, 2nd April 1971 —
TDG optimism is well-based
Close
• "The outlook for road haulage undertakings is good, particularly for those who provide specialized services, such as tanker operation, for which there is a continuing heavy demand. Road haulage remains a growth industry; it thrives on competition. There is still much room for further acquisitions by the Group." That optimistic view of UK haulage is given in the directors' report of the Transport Development Group, which in 1970 had record pretax profits of £8,578,000 on revenue of £66m, compared with £6,884,000 on £55m revenue in 1969.
The report shows that profit before tax, as a percentage of income, improved from 12.4 per cent to 13 per cent. Road haulage turnover rose from £3 lm to nearly £37m, and the profit for the road haulage sector from £3,256,000 to £3,678,000.
Capital expenditure was heavy, largely because of new transport regulations, but the peak has been passed.
"Chaos in the enclosed docks" is how TDG describes the effect of shift working introduced last September in the Port of London; dock haulage companies had a difficult time and there were endless delays to vehicles. Some companies have had to impose heavy surcharges on dock traffic, or have withdrawn from this work.
The TDG sees a stronger industry resulting from the operators' licence regulations, but sees signs that some newcomers may enter "rather too easily".
The Australian haulage interests of TDG had a good year, Green McCandlish Ltd of Melbourne producing record profits.
In Britain, the shift of warehousing from riverside to inland areas continued, and TDG sees the future for storage with inland warehouses.