60 special pop trucks
2nd April 1971
Page 21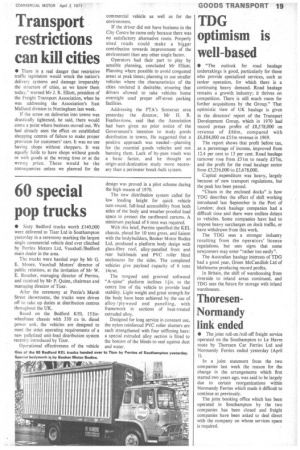 Page 21, 2nd April 1971 —
60 special pop trucks
Close
• Sixty Bedford trucks worth £140,000 were delivered to Tizer Ltd in Southampton yesterday in a ceremony marking the largest single commercial-vehicle deal ever clinched by Perrins Motors Ltd, Vauxhall /Bedford main dealer in the area.
The trucks were handed over by Mr G. E. Moore, Vauxhall Motors' director of public relations, at the invitation of Mr W. E. Boucher, managing director of Perrins, and received by Mr P. Quinn, chairman and managing director of Tizer.
After the ceremony at Perrin's Marsh Street showrooms, the trucks were driven off to take up duties at distribution centres throughout the UK.
Based on the Bedford KEL 151inwheelbase chassis with 330 cu in. diesel power unit, the vehicles are designed to meet the strict operating requirements of a new palletized unit-load distribution system recently introduced by Tizer.
Operational effectiveness of the vehicle
One of the BO Bedford KEL trucks handed over Special bodywork is by Booker Motor Bodies.
design was proved in a pilot scheme during the high season of 1970.
The new distribution system called for low loading height for quick vehicle turn-round, full-load accessibility from both sides of the body and weather-proofed load space to protect the cardboard cartons. A minimum payload of 6 tons was required.
With this brief, Perrins specified the KEL chassis, plated for 10 tons gross, and liaison with the bodybuilders, Booker Motor Bodies Ltd, produced a platform body design with glass-fibre roof, alloy-panelled front and rear bulkheads and PVC roller blind enclosures for the sides. The completed vehicles give payload capacity of 6 tons 14cwt.
The tongued and grooved softwood "A-spine" platform inclines l+in. to the centre line of the vehicle to provide load stability. Light weight and great strength for the body have been achieved by the use of alloy /plywood end panelling, with framework in sections of heat-treated extruded alloy.
Designed for long service in constant use, the nylon reinforced PVC roller shutters are each strengthened with four stiffening bars: a special extruded alloy section is fitted to the bottom of the blinds to seal against dust and water.