Damages for blow from wheel
2nd April 1971
Page 20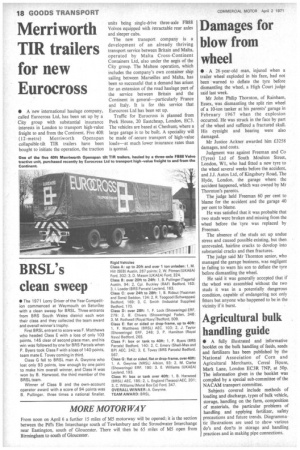 Page 20, 2nd April 1971 —
Damages for blow from wheel
Close
Keywords :
Surnames
,
Tyre, Lebanon
,
Tire
,
Ackner
,
Wheel
,
Western Asia
,
Middle East
,
Lebanon
,
Law / Crime
,
Disaster / Accident
• • A 26-year-old man, injured when a trailer wheel exploded in his face, had not been warned to deflate the tyre before dismantling the wheel, a High Court judge said last week.
Mr John Philip Thornton, of Rainham, Essex, was dismantling the split rim wheel of a 10-ton tanker at his parents' garage in February 1967 when the explosion occurred. He was struck in the face by part of the wheel and suffered a fractured skull. His eyesight and hearing were also damaged.
Mr Justice Ackner awarded him £3258 damages, and costs.
Judgment was against Freeman and Co (Tyres) Ltd of South Moulton Street, London, WI, who had fitted a new tyre to the wheel several weeks before the accident, and J.J. Autos Ltd, of Kingsbury Road, The Hyde, London, the garage where the accident happened, which was owned by Mr Thornton's parents.
The judge held Freeman 60 per cent to blame for the accident and the garage 40 per cent to blame.
He was satisfied that it was probable that two studs were broken and missing from the wheel before the tyre was replaced by Freeman.
The absence of the studs set up undue stress and caused possible existing, but then unrevealed, hairline cracks to develop into substantial cracks and then fractures.
The judge said Mr Thornton senior, who managed the garage business, was negligent in failing to warn his son to deflate the tyre before dismantling the wheel.
He said it was generally accepted that if the wheel was assembled without the two studs it was in a potentially dangerous condition, capable of endangering not only fitters but anyone who happened to be in the vicinity if it burst.