Minister agrees: goods drivers' hours need change
2nd April 1971
Page 19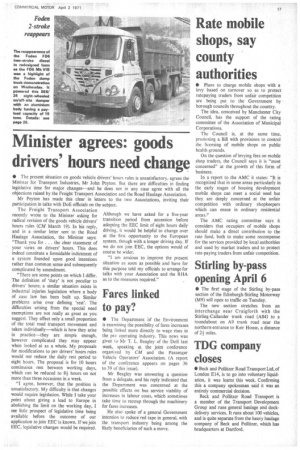 Page 19, 2nd April 1971 —
Minister agrees: goods drivers' hours need change
Close
• The present situation on goods vehicle drivers' hours rules is unsatisfactory, agrees the Minister for Transport Industries, Mr John Peyton. But there are difficulties in finding legislative time for major changes—and he does not in any case agree with all the objections raised by the Freight Transport Association and the Road Haulage Association.
Mr Peyton has made this clear in letters to the two Associations, inviting their participation in talks with DoE officials on the subject.
The Freight Transport Association recently wrote to the Minister asking for radical revision of the goods vehicle drivers' hours rules (CM March 19). In his reply, and in a similar letter sent to the Road Haulage Association, the Minister says: "Thank you for . . . the clear statement of your views on drivers' hours. This does indeed constitute a formidable indictment of a system founded upon good intentions rather than common sense and subsequently complicated by amendment.
"There are some points on which I differ. The definition of 'duty' is not peculiar to drivers' hours; a similar situation exists in industrial injuries legislation where a body of case law has been built up. Similar problems arise over defining 'rest'. The difficulties arising from the special need exemptions are not really as great as you suggest. They affect only a small proportion of the total road transport movement and taken individually—which is how they arise in practice—they are simple enough, however complicated they may appear when looked at as a whole. My proposals for modifications to psv drivers' hours rules would not reduce the daily rest period to eight hours. The proposal is for 10 hours continuous rest between working days, which can be reduced to 8hours on not more than three occasions in a week.
"I agree, however, that the position is unsatisfactory. My difficulty is that changes would require legislation. While I take your point about giving a lead to Europe in abolishing the limit on the working day, I see little prospect of legislative time being available before the outcome of our application to join EEC is known. If we join EEC, legislative changes would be required.
Although we have asked for a five-year transition period from accession before adopting the EEC limit of eight hours daily driving, it would be helpful to change over at the first opportunity to the European system, though with a longer driving day. If we do not join EEC, the options would of course be wider.
"I am anxious to improve the present situation as soon as possible and have for this purpose told my officials to arrange for talks with your Association and the RHA as to the measures required."