Budget 'slap in the face' on LPG as vehicle fuel: tax likely this summer
2nd April 1971
Page 18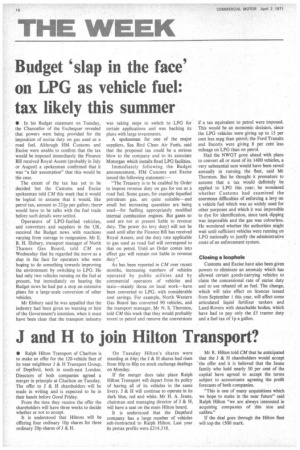 Page 18, 2nd April 1971 —
Budget 'slap in the face' on LPG as vehicle fuel: tax likely this summer
Close
Keywords :
Taxation
,
Energy
,
Finance
,
United Kingdom
,
Fuel Tax
,
Hm Customs And Excise
,
Excise
,
Liquefied Petroleum Gas
,
Tax
,
Fuel Economy In Automobiles
,
Hydrocarbon Oil Duty
,
Motoring Taxation In The United Kingdom
,
Business / Finance
•• In his Budget statement on Tuesday, the Chancellor of the Exchequer revealed that powers were being provided for the imposition of excise duty on gas used as a road fuel. Although HM Customs and Excise were unable to confirm that the tax would be imposed immediately the Finance Bill received Royal Assent (probably in July or August) a spokesman confirmed that it was "a fair assumption" that this would be the case.
The extent of the tax has yet to be decided but the Customs and Excise spokesman told CM this week that it would be logical to assume that it would, like petrol tax, amount to 22Ip per gallon; there* would have to be talks with the fuel trade before such details were settled.
Operators of LPG-fuelled vehicles, and converters and suppliers in the UK, received the Budget news with reactions varying from outrage to resignation. Mr E. B. H. Elsbury, transport manager of North Thames Gas Board, told CM on Wednesday that he regarded the move as a slap in the face for operators who were hoping to do something towards improving the environment by switching to LPG. He had only two vehicles running on the fuel at present, but immediately on hearing the Budget news he had put a stop on extensive plans for a large-scale conversion of other vehicles.
Mr Elsbury said he was appalled that the industry had been given no warning or hint of the Government's intention, when it must have been clear that the transport industry, was taking steps to switch to .LPG for certain applications and was backing its plans with large investments.
A spokesman for one of the major suppliers, Sea Bird Clean Air Fuels, said that the proposed tax could be a serious blow to the company and to its associate Motorgas which installs fixed LPG facilities.
Immediately following the Budget announcement, HM Customs and Excise issued the following statement:—
"The Treasury is to be enabled by Order to impose revenue duty on gas for use as a road fuel. Some gases, for example liquefied petroleum gas, are quite suitable--and small but increasing quantities are being used—for fuelling appropriately modified internal combustion engines. But gases so used are not at present liable to revenue duty. The power (to levy duty) will not be used until after the Finance Bill has received Royal Assent, and the duty rate applicable to gas used as road fuel will correspond to that on petrol. Until an Order comes into effect gas will remain not liable to revenue duty".
As has been reported in CM over recent months, increasing numbers of vehicles operated by public utilities and by commercial operators of vehicles and taxis—mainly those on local work—have been converted to LPG, with considerable cost savings. For example, North Western Gas Board has converted 90 vehicles, and the transport manager, Mr N. S. Thornton, told CM this week that they would probably revert to petrol and remove the conversions if a tax equivalent to petrol were imposed. This would be an economic decision, since the LPG vehicles were giving up to 15 per cent less mpg than petrol; the Ford Transits and Escorts were giving 8 per cent less mileage on LPG than on petrol.
Had the NWGT gone ahead with plans to convert all or most of its 1400 vehicles, a .very substantial sum would have been saved annually in running the fleet, said Mr Thornton. But he thought it premature to assume that a tax would definitely be applied to LPG this year; he wondered whether Customs had examined the enormous difficulties of enforcing a levy on a vehicle fuel which was so widely used for other purposes and which it was impossible to dye for identification, since tank dipping was impossible and the gas was colourless. He wondered whether the authorities might wait until sufficient vehicles were running on LPG nationally to justify the administrative costs of an enforcement system.
Closing a loophole Customs and Excise have also been given powers to eliminate an anomaly which has allowed certain goods-carrying vehicles to claim the concessional rate of excise duty and to use rebated oil as fuel. The change, which will take effect on licences issued from September 1 this year, will affect some articulated liquid fertilizer tankers and Land-Rovers with detachable bodies, which have had to pay only the £5 tractor duty and a fuel tax of lp a gallon.