St GEORGE HAS COME A LONG WAY SINCE THE OLD DAYS.
2nd April 1971
Page 11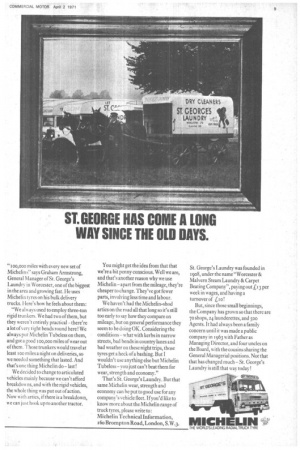 Page 11, 2nd April 1971 —
St GEORGE HAS COME A LONG WAY SINCE THE OLD DAYS.
Close
"100,000 miles with every new set of Michelins" says Graham Armstrong, General Manager of St. George's Laundry in Worcester, one of the biggest in the area and growing fast. He uses Michelin tvres on his hulk delivery trucks. Here's how he feels about them: "We always used to employ three-ton rigid trunkers. We had two of them, but they weren't entirely practical there're a lot of very tight bends round here! We always put Michelin Tubeless on them, and got a good too,000 miles of wear out of them. Those trunkers would travel at least t oo miles a night on deliveries, so we needed something that lasted. And that's one thing Michelin do last!
We decided to change to articulated vehicles mainly because we can't afford breakdowns, and with the rigid vehicles, the whole thing was put out of action. Now with attics, if there is a breakdown, we can just hook up to another tractor. You might get the idea from that that we're a bit penny conscious. Well we are, and that's another reason why we use Michelin apart from the mileage, they're cheaper to change. They've got fewer parts, involving less time and labour.
We haven't had the Michelin-shod artics on the road all that long so it's still too early to say how they compare on mileage, but on general performance they seem to be doing OK. Considering the conditionswhat with kerbs in narrow streets, bad bends in country lanes and bad weather on these night trips, those tyres get a heck of a bashing. But I wouldn't use anything else but Michelin Tubeless you just can't beat them for wear, strength and economy."
That's St. George's Laundry. But that same Michelin wear, strength and economy can he put to good use for any company's vehicle fleet. If you'd like to know more about the Michelin range of truck tyres, please write to: St. George's Laundry was founded in 1908, under the name "Worcester & Malvern Steam Laundry & Carpet Beating Company", paying out T3 per week in wages, and having a turnover of £10!
But, since those small beginnings, the Company has grown so that there are 70 shops, 24 launderettes, and 500 Agents. It had always been a family concern until it was made a public company in 1963 with Father as Managing Director, and four uncles on the Board, with the cousins sharing the General Managerial positions. Not that that has changed much St. George's Laundry is still that way today!