One Hears— That the cry still is " the roads."
2nd April 1914
Page 3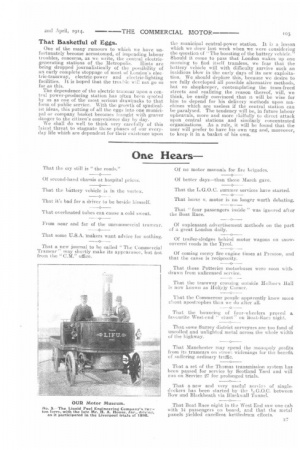 Page 3, 2nd April 1914 —
One Hears— That the cry still is " the roads."
Close
Of second-hand chassis at hospital prices.
That the battery vehicle is in the vortex.
That it's bad for a driver to be beside himself. That overheated tubes can cause a cold sweat. From near and far of the uncommercial tramcar. That some U.S.A. 'makers want advice for nothing.
That a new journal to be called " The Commercial Tramcar " may shortly make its appearance, but hot from the " CM." office. Of no motor manuals for fire brigades. Of better days—than those March gave.
That the La.o.c. summer services have started. That horse v. motor is no longer worth debating.
That "four passengers inside " was ignored after the Boat Race.
Of unpleasant advertisement methods on the part of a great London daily.
Of trailer-sledges behind motor wagons on snowcovered roads in the Tyrol.
Of coming merry fire engine times at Preston, and that the cause is reciprocity.
That those Potteries motorbuses were soon withdrawn from unlicensed service.
That the tramway crossing outside Holborn Hall is now known as liol(e)y Corner.
That the Comntercar people apparently know more about apostrophes than we do after all.
That the bouncing of four-wheelers proved a favourite West-end " stunt" on Boat-Racs night.
That some Surrey district surveyors are too fond of unrolled and unlighted metal across the whole width of the highway.
That Manchester may spend the monopoly profits from its tramcars on street widcnings for the benefit of _suffering ordinary traffic.
That a set of the Thomas transmission system has been passed for service by Scotland Yard and will run on Service 27 for prolonged trials.
That a new and very useful servie of singledeckers has been started by the t.G.O.C. between Bow and Blackheath via Blaekwall Tunnel.
That Boat Race night in the West End saw one cab with 14 passengers on board, and that the metal panels yielded excellent kettledrum effects.