Opinions from Others.
2nd April 1914
Page 19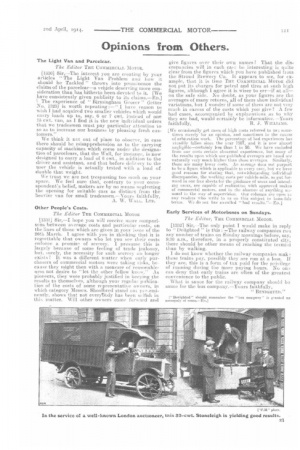 Page 19, 2nd April 1914 —
Opinions from Others.
Close
The Light Van and Parcelcar.
The Editor THE COMMERCIAL MOTOR.
[1330] Sir,--The interest you are creating by your articles " The Light Van Problem and how it should be Tackled " throws into prominence the claims of the parcele,ar—a vehicle deserving more consideration than has hitherto been devoted to it. [We have consistently given publicity to its claims.--En.] t, The experience of " Birmingham Grocer " (letter No. 1325) is worth repeating :—" I have reason to wish I had acquired two smaller vehicles which would
calry loads up to say, 6 or 7 cwt. instead of one 15 Cwt. van as 1 to, it is the new individual orders
that, we tradesmen must pay particular attention to so as to increase our business by pleasing fresh customers."
We think it not out of place to observe, in case
there should be misapprehension as to the carrying Capacity of machines which come under the designation of parcelears, that the %Vali, for instanee, is now designed to carry a load of 6 cwt., in addition to the driver and assistant, and that before delivery to the user the vehicle is .actually tested with a load of double that weight.
We trust we are not trespassing too iouch on your space. We feel sure that, contrary to your correspondent's belief, makers are by no means neglecting the opening for suitable cars as distinct from the heavier van for small tradesmen.— Yours faithfully, A. W. WALL, LTD.
Other People's Costs.
The Editor THE COMMERCIAL MOTOR [1331] Sir,—I hope you will receive more comparisons between ayera,ge costs and particular costs, on the lines of those which are given in your issue of the 26th March. I agree with you in thinking that it is regrettable that owners who let you see their costs enforce a promise of secrecy. I presume this is largely because of some feeling of trade jealousy, but, surely, the necessity for such secrecy on longer exists? It was a different matter when early purchasers of commercial motors were taking i isie, be-cause they might then with a measure of reasonableness not desire to "let the other fellow know." As pioneers, they were probably justified in keeping the results to themselves, although your regular publication of the costs of some representative owners, in which category Messrs. Shoolbred stand out to P-emine itly, shows that not everytaedy has been selfish in this matter. Will -other owners come forward am! give figures over their own names? That the discrepancies will in each ewe:2 be interesting is quite clear from the figures which you have published from the Stroud Brewery Co. It appears to me, for example, that it is Little THE COMMERCIAL MOTOR did not put its charges for petrol and tires at such high figures, although I agree it is wiser to err--if at all— on the safe side. No doubt, as your figures are the averages of ma-ny returns, all of them show individual variations, but I wonder if sonic of them are not very much in excess of the costs which you give? A few, bad cases, accompanied by explanations as to why they are had would certainly be informative.--Yours
faithfully, R. J. W Haulm.
[We occasionally get cases of high costs referred to us ; sometimes merely for an opinion; and sometimes in the course of arbitration work. The percentage of bad experiences has steadily fallen since the year 1007, and it is now almost nogligibk—certainly less than 1 in 50. We have excluded from our Costs certain abnormal experiences, but many of the results upon which our published averages are Lased are naturally very much higher than those averages. Similarly, there are many lower costs. An average does not purport to be a figure which is applicable to every case, hot we have good reasons for stating that, notwithstanding individual discrepancies, the IA (irking costs per vehicle-mile, as put forward in our free sheets for the guidance of users and intendmg users, are capable of realization with approved makes of commercial motors, and in the absence of anything itausual in the way of supervision. Our columns are open to any readers who write to us on this subject in bona-fide terms. We do not Inc so-called " had results."—Eio.] Early Services of Motorbuses on Sundays.
The Editor, THE COMMERCIAL MOTOR.
[13.32] Sir,-The only point I would make in reply to " Delighted " is this ea-The railway companies riot any number of trains on ganday mornings before, say, 9.30 a.m.., therefore, in a properly constituted city, there should be other means of reaching the termini than by walking.
I do not know whether the railway companies rtrak. these trains pay, possibly they are run at a loss. If they are, this is a form of tax paid for the privilege of running during the more paying hours. No ona can deny that early trains are often of the greatest convenience to the public.
What is sauce for the railway company should be sauce for the bus company.—Yours faithfully, `` BENIGHTED.''