N ormally, Commercial Motor spends two days hauling our 7-tonne test
29th September 2011
Page 6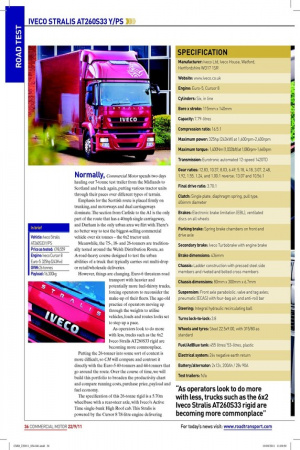 Page 7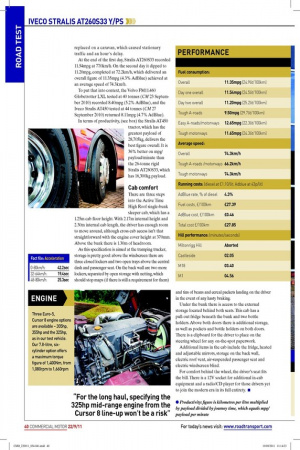 Page 6, 29th September 2011 —
N ormally, Commercial Motor spends two days hauling our 7-tonne test
Close
trailer from the Midlands to Scotland and back again, putting various tractor units through their paces over different types of terrain.
Emphasis for the Scottish route is placed irmly on trunking, and motorways and dual carriageways dominate. The section from Carlisle to the A1 is the only part of the route that has a 40mph single carriageway, and Durham is the only urban area we lirt with.There's no better way to test the biggest-selling commercial vehicle over six tonnes – the 6x2 tractor unit.
Meanwhile, the 7.5-, 18and 26-tonners are traditionally tested around the Welsh Distribution Route, an A-road-heavy course designed to test the urban abilities of a truck that typically carries out multi-drop or retail/wholesale deliveries.
However, things are changing. Euro-6 threatens road transport with heavier and potentially more fuel-thirsty trucks, forcing operators to reconsider the make-up of their leets. The age-old practice of operators moving up through the weights to utilise vehicles, loads and routes looks set to step up a pace.
As operators look to do more with less, trucks such as the 6x2 Iveco Stralis AT260S33 rigid are becoming more commonplace.
Putting the 26-tonner into some sort of context is more dificult, so CM will compare and contrast it directly with the Euro-5 40-tonners and 44-tonners that go around the route. Over the course of time, we will build this portfolio to broaden the productivity chart and compare running costs, purchase price, payload and fuel economy.
The speciication of this 26-tonne rigid is a 5.70m wheelbase with a rear-steer axle, with Iveco's Active Time single-bunk High Roof cab. This Stralis is powered by the Cursor 8 7.8-litre engine delivering replaced on a caravan, which caused stationary traffic and an hour's delay.
At the end of the irst day, Stralis AT260S33 recorded 11.54mpg at 77.0km/h. On the second day it dipped to 11.20mpg, completed at 72.2km/h, which delivered an overall igure of 11.35mpg (4.3% AdBlue) achieved at an average speed of 74.3km/h.
To put that into context, the Volvo FM11.460 Globetrotter LXL tested at 40 tonnes (CM 23 September 2010) recorded 8.40mpg (5.2% AdBlue), and the Iveco Stralis AT450 tested at 44 tonnes (CM 27 September 2010) returned 8.11mpg (4.7% AdBlue).
In terms of productivity, (see box) the Stralis AT450 tractor, which has the greatest payload of 28,705kg, delivers the best igure overall. It is 36% better on mpg/ payload/minute than the 26-tonne rigid Stralis AT260S33, which has 16,300kg payload.
Cab comfort
There are three steps into the Active Time High Roof single-bunk sleeper cab, which has a 1.25m cab loor height. With 2.17m internal height and 2.30m internal cab length, the driver has enough room to move around, although cross cab access isn't that straightforward with the engine cover height at 370mm. Above the bunk there is 1.30m of headroom.
As this speciication is aimed at the tramping trucker, storage is pretty good: above the windscreen there are three closed lockers and two open trays above the central dash and passenger seat. On the back wall are two more lockers, separated by open storage with netting, which should stop maps (if there is still a requirement for them) and tins of beans and cereal packets landing on the driver in the event of any hasty braking.
Under the bunk there is access to the external storage located behind both seats. This cab has a pull-out fridge beneath the bunk and two bottle holders. Above both doors there is additional storage, as well as pockets and bottle holders on both doors. There is a clipboard for the driver to place on the steering wheel for any on-the-spot paperwork.
Additional items in the cab include the fridge, heated and adjustable mirrors, storage on the back wall, electric roof vent, air-suspended passenger seat and electric windscreen blind.