CIRCLE OF SAFETY
29th September 2011
Page 26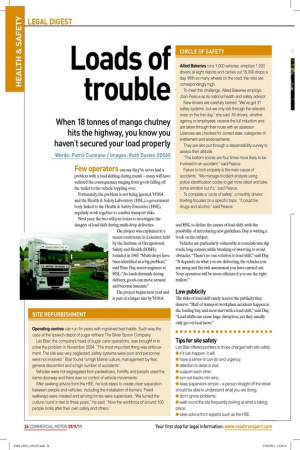 Page 26, 29th September 2011 —
CIRCLE OF SAFETY
Close
Allied Bakeries runs 1,000 vehicles, employs 1,200 drivers at eight depots and carries out 15,000 drops a day. With so many wheels on the road, the risks are correspondingly high.
To meet this challenge, Allied Bakeries employs Joan Pearce as its national health and safety advisor.
New drivers are carefully tutored. "We've got 31 safety systems, but we only talk through the relevant ones on the first day," she said. All drivers, whether agency or employees, receive the full induction and are taken through their route with an assessor. Licences are checked for correct date, categories of entitlement and endorsements.
They are also put through a dependability survey to assess their attitude.
"The bottom scores are four times more likely to be involved in an accident," said Pearce.
Failure to look properly is the main cause of accidents. "We manage incident analysis using police identification codes to get more detail and take some emotion out if it," said Pearce.
To complete a 'circle of safety', a monthly drivers' briefing focuses on a specific topic. "It could be drugs and alcohol," said Pearce.