Growth plans
29th September 2011
Page 20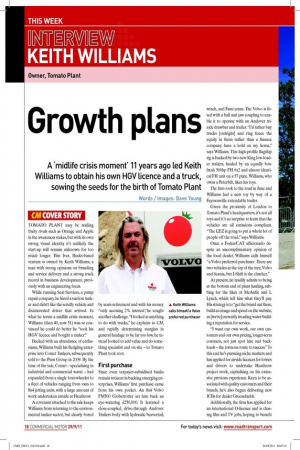 Page 21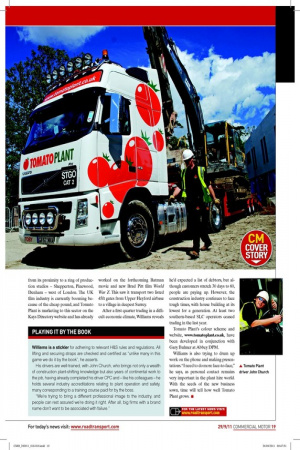 Page 20, 29th September 2011 —
Growth plans
Close
A 'midlife crisis moment' 11 years ago led Keith Williams to obtain his own HGV licence and a truck, sowing the seeds for the birth of Tomato Plant
Words / Images: Dave Young
TOMATO PLANT may be trailing fruity rivals such as Orange and Apple in the awareness stakes, but with its own strong visual identity it's unlikely the start-up will remain unknown for too much longer. This Iver, Bucks-based venture is owned by Keith Williams, a man with strong opinions on branding and service delivery and a strong track record in business development, previously with an engineering focus.
While running Seal Services, a pump repair company, he hired a suction tanker and didn't like the scruffy vehicle and disinterested driver that arrived. In what he terms a midlife crisis moment, Williams (then 40, now 51) was so convinced he could do better he "took his HGV licence and bought a tanker".
Backed with an abundance of enthusiasm, Williams built his ledgling enterprise into Comet Tankers, subsequently sold to the Pims Group in 2009. By the time of the sale, Comet – specialising in industrial and commercial waste – had expanded from a single four-wheeler to a leet of vehicles ranging from vans to 8x4 jetting units, with a large amount of work undertaken airside at Heathrow.
A covenant attached to the sale keeps Williams from returning to the environmental tanker sector, but clearly bored
by semi-retirement and with his money "only accruing 2% interest", he sought another challenge. "I looked at anything to do with trucks," he explains to CM, and rapidly determining margins in general haulage to be far too low, he instead looked to add value and do something specialist and on site – so Tomato Plant took root.
First purchase
Since even taxpayer-subsidised banks remain reticent in backing emerging enterprises, Williams' irst purchase came from his own pocket. An 8x4 Volvo FM500 Globetrotter set him back an eye-watering £250,000. It featured a close-coupled, drive-through Andover Trailers body with hydraulic beavertail, winch, and Fassi crane. The Volvo is itted with a ball and jaw coupling to enable it to operate with an Andover triaxle drawbar and trailer. "I'd rather buy trucks [outright] and ring fence the equity in them rather than a inance company have a hold on my home," says Williams. This high-proile lagship rig is backed by two new King low-loader trailers, hauled by an equally boxfresh 500hp FH 6x2 and almost identical FH unit on a 57 plate. Williams, who owns a Peterbilt, likes his toys.
The irm took to the road in June and Williams had a new toy by way of a Faymonville extendable trailer.
Given the proximity of London to Tomato Plant's headquarters, it's not all toys and it's no surprise to learn that the vehicles are all emissions compliant. "The LEZ is going to put a whole lot of people off the road," says Williams.
Once a Foden/CAT aficionado despite an uncomplimentary opinion of the local dealer, Williams calls himself "a Volvo preferred purchaser. There are two vehicles at the top of the tree, Volvo and Scania, but I-Shift is the clincher." At present, he readily admits to being at the bottom end of plant hauling, subbing for the likes of McArdle and L Lynch, which tell him what they'll pay. His strategy is to "get the brand out there, build an image and spend on the website, as [we're] currently treading water building a reputation for service.
"I want our own work, our own customers and our own pricing, longer-term contracts, not just spot hire and backloads – the tortuous route to success." To this end he's pursuing niche markets and has applied for airside licences for lorries and drivers to undertake Heathrow project work, capitalising on his extensive previous experience. Keen to be associated with quality customers and their brands, he's also begun delivering new JCBs for dealer Greenshields.
Additionally, the irm has applied for an international O-licence and is chasing ilm and TV jobs, hoping to beneit from its proximity to a ring of production studios – Shepperton, Pinewood, Denham – west of London. The UK ilm industry is currently booming because of the cheap pound, and Tomato Plant is marketing to this sector on the Kays Directory website and has already
worked on the forthcoming Batman movie and new Brad Pitt ilm World War Z. This saw it transport two listed 45ft gates from Upper Heyford airbase to a village in deepest Surrey.
After a irst quarter trading in a dificult economic climate, Williams reveals he'd expected a list of debtors, but although customers stretch 30 days to 60, people are paying up. However, the construction industry continues to face tough times, with house building at its lowest for a generation. At least two southern-based SLC operators ceased trading in the last year.
Tomato Plant's colour scheme and website, www.tomatoplant.co.uk, have been developed in conjunction with Gary Bulmer at Abbey DPM.
Williams is also trying to drum up work on the phone and making presentations. "I need to do more face-to-face," he says, as personal contact remains very important in the plant hire world. With the seeds of the new business sown, time will tell how well Tomato Plant grows. n
FOR THE LATEST NEWS VISIT:
www.roadtransport.com