Out like a light
29th September 2011
Page 18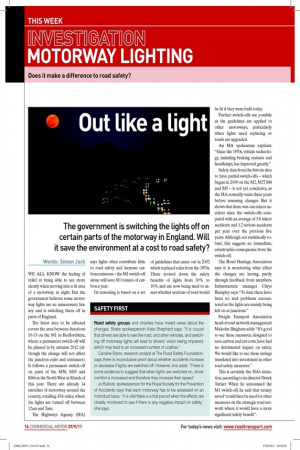 Page 19
Page 18, 29th September 2011 —
Out like a light
Close
Keywords :
Counties Of England
,
Transport
,
Types Of Roads
,
Transport In Buckinghamshire
,
M1 Motorway
,
Transport In Sheffield
,
Highways Agency
,
Controlled-access Highway
,
Motorways In The Republic Of Ireland
,
Road Traffic Safety
,
Roads In The United Kingdom
,
M5 Motorway
,
Disaster / Accident
The government is switching the lights off on certain parts of the motorway in England. Will it save the environment at a cost to road safety?
Words: Simon Jack
WE ALL KNOW the feeling of relief at being able to see more clearly when moving into a lit area of a motorway at night. But the government believes some motorway lights are an unnecessary luxury and is switching them off in parts of England.
The latest area to be affected covers the area between Junctions 10-13 on the M1 in Bedfordshire, where a permanent switch-off will be phased in by autumn 2012 (although the change will not affect the junction exits and entrances). It follows a permanent switch-off on parts of the M58, M65 and M66 in the North West in March of this year. There are already 14 stretches of motorway around the country, totalling 47.4 miles, where the lights are turned off between 12am and 5am.
The Highways Agency (HA) says lights often contribute little to road safety and increase carbon emissions – the M1 switch-off alone will save 810 tonnes of carbon a year.
Its reasoning is based on a set of guidelines that came out in 2007, which replaced rules from the 1970s. These revised down the safety beneits of lights from 30% to 10% and are now being used to assess whether sections of road would be lit if they were built today.
Further switch-offs are possible as the guidelines are applied to other motorways, particularly when lights need replacing or roads are upgraded.
An HA spokesman explains: "Since the 1970s, vehicle technology, including braking systems and headlamps, has improved greatly." Safety data from the irst six sites to have partial switch-offs – which began in 2009 on the M2, M27, M4 and M5 – is not yet conclusive, as the HA normally waits three years before assessing changes. But it shows that there was one minor accident since the switch-offs compared with an average of 3.6 minor accidents and 1.2 serious accidents per year over the previous ive years. Although not statistically robust, this suggests no immediate, catastrophic consequence from the switch-off.
The Road Haulage Association says it is monitoring what effect the changes are having, partly through feedback from members. Infrastructure manager Chrys Rampley says: "To date there have been no real problems encountered as the lights are mainly being left on at junctions." Freight Transport Association head of road network management Malcolm Bingham adds: "It's good to see these measures, designed to save carbon and cut costs, have had no detrimental impact on safety. We would like to see these savings translated into investment in other road safety measures." This is certainly the HA's intention, according to its director Derek Turner. When he announced the M1 switch-off, he said that money saved "could then be used for other measures on the strategic road network where it would have a more signiicant safety beneit" . However, rather than speciic initiatives, the HA says the money saved will help it address individual situations – for example, by improving road layouts and markings or painting chevrons to discourage tail-gating.
"If there was a safety issue in a location, we would have the ability to carry out the necessary intervention," says its spokesman.
Opinions vary among hauliers about the switch-offs. Julian Richards, MD of Manchester-based AKW Group, says: "I think it's madness. Road safety is paramount for any haulier and all road users. I am against anything that reduces motorway light at night." Martyn Nicholls, operations director of Boughey Distribution, adds: "I think it's got massive safety implications, as you can't deny that visibility will be affected. From a green point of view, it's beneicial, so maybe we should look at the type of lighting we are using and ind something that doesn't do as much damage." But Steve Rowland, health and safety adviser at Bibby Distribution, believes it is driving skills that are paramount for safety, although the company would be concerned if lights were removed at busy intersections and junctions.
"The important thing is that drivers are trained to take to the road at any time of the day or night. Many roads in the UK are unlit, and this is something that drivers have become used to," he says.
This is borne out by HA igures, which show that 70% of all trunk roads and motorways are unlit.
Paul Johnson, MD of Transervice Express Transport, says that lights are most important in urban sections of the network with junctions bunched together. "I don't think switching off lights is a bad idea. For long stretches of road out of town, you don't need them," he says.
The switch-offs come at a time when road safety igures are improving. According to the Department for Transport, the overall number of deaths on the roads in Great Britain was 1,850 in 2010, down 17% on 2009's igure of 2,222. Whether or not turning off motorway lights reduces road safety is yet to be borne out, but, either way, switch-offs are likely to become increasingly common. ■
FOR THE LATEST NEWS VISIT:
www.roadtransport.com